Almost everyone uses language, so inevitably almost everyone thinks they are an expert in it. I don't consider myself an expert, though most of my work requires at least language competence and sometimes actual skill, but I do follow the blogs featured on this feeds page.
(If you are wondering where the translation-related feeds have all gone, I have put them on their own page.)
Most of the blogs represented here are in English, most of the time, but don't be surprised to find other languages used. Go with the flow – I occasionally find myself pleasantly surprised at how much I can grasp in languages I have never seen before.
Language On the Net
The AHD defines terroir as "1. The aggregate characteristics of the environment in which a food or wine is produced, including regional and local climate, soil, and topography. 2. The flavor imparted to a food or wine by such characteristics" (it's from Vulgar Latin *terratōrium, alteration of Latin territōrium, territory); it's pretty much a foodie term, but a useful one, … [Link]
I have now been learning Icelandic for a couple of weeks, and am still on Lesson 1 in Colloquial Icelandic. I'm in no hurry, and just want to learn the basics, at least at first, so my lack of progress doesn't worry me. There seem to be quite a few ways to greet people in Icelandic. These include: – Halló … [Link]
Receipt for yesterday's lunch: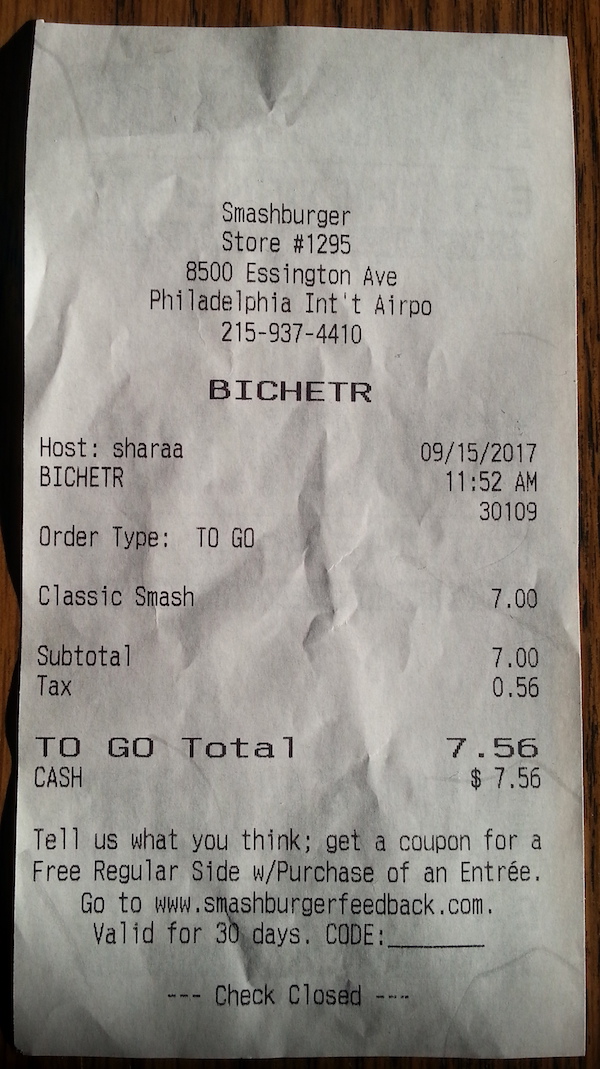 The Ethiopian server asked for my name. "Victor," I said. "What?" she asked. "Vic-tor," I enunciated as clearly as possible. I paid for my order, then stood by the side to wait for my name to be called. After about four minutes, she called out, "Bichetr!" I claimed my burger, amidst the smiles of the other … [Link]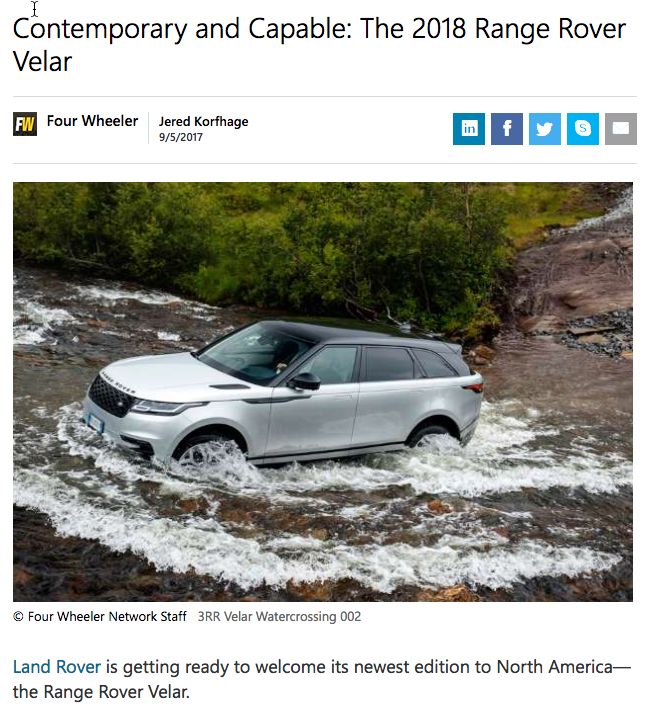 Alex Baumans writes: Perhaps no news to you, but I just discovered that the new Range Rover model is called the Velar. I wonder if the Uvular will be next. To be followed by the Range Rover Pharyngeal and the Range Rover Glottal. (Or maybe a hybrid version called the Range Rover Labiovelar?) And Jeep could fight back with the Jeep … [Link]
Acronym. Stands for "If you know what I mean". Mainly used in instant messaging conversations. Can also be used in conjunction with "AITYD" (and I think you do). "I could really go for a tossed salad for lunch." "Oh, I've got a salad for you to toss, IYKWIM…AITYD."
[Link]
In "Impromptu biscriptalism on a Starbucks cup" (9/8/17), we encountered a Starbucks cup from Shenyang, northeast China that had the following handwritten notation on the side: wài's 外's ("foreigner's"). I referred to the "'s" as impromptu because I thought that it was essentially a one-off phenomenon. Nonetheless, I considered the "'s" to be linguistically significant in two major ways: 1. … [Link]
Archive
18 Dec 2017 17 Dec 2017 16 Dec 2017 15 Dec 2017 14 Dec 2017 13 Dec 2017 12 Dec 2017 11 Dec 2017 10 Dec 2017 09 Dec 2017 08 Dec 2017 07 Dec 2017 06 Dec 2017 05 Dec 2017 04 Dec 2017 03 Dec 2017 02 Dec 2017 01 Dec 2017 30 Nov 2017 29 Nov 2017 28 Nov 2017 27 Nov 2017 26 Nov 2017 25 Nov 2017 24 Nov 2017 23 Nov 2017 22 Nov 2017 21 Nov 2017 20 Nov 2017 19 Nov 2017 18 Nov 2017