Almost everyone uses language, so inevitably almost everyone thinks they are an expert in it. I don't consider myself an expert, though most of my work requires at least language competence and sometimes actual skill, but I do follow the blogs featured on this feeds page.
(If you are wondering where the translation-related feeds have all gone, I have put them on their own page.)
Most of the blogs represented here are in English, most of the time, but don't be surprised to find other languages used. Go with the flow – I occasionally find myself pleasantly surprised at how much I can grasp in languages I have never seen before.
Language On the Net
This piece by Julie Masis is full of interesting stuff. It starts (after a great picture of the magnificently mustachioed author) by describing a Sholem Aleichem short story called "Homesickness," one of his stories that were censored in the Soviet Union and have been translated into Russian for the first time. "This story expresses Zionist sentiments. It shows us the … [Link]
Scott Rappaport reports for Phys.org: "A lot of talk is fragments—it's the kind of thing we understand reflexively as human beings, but it's much harder for machines," notes Jim McCloskey, professor of linguistics at UC Santa Cruz. "Linguistic theory teaches us what kind of structures there are in our mind, but how to make sense of these fragments is also … [Link]
(1/2) For those of you keeping score at home, I gave exactly 18 f*cks about my Pats. Upon reflection, 12 probably would have been sufficient — Ben Affleck (@BenAffleck) June 23, 2016 (2/2) We Boston fans have always been known for our subtlety. One of my favorite interviews; hope you get to see the entire episode. #GoPats — Ben Affleck … [Link]
Cameron Majidi sent in this photograph taken on East Broadway in Manhattan: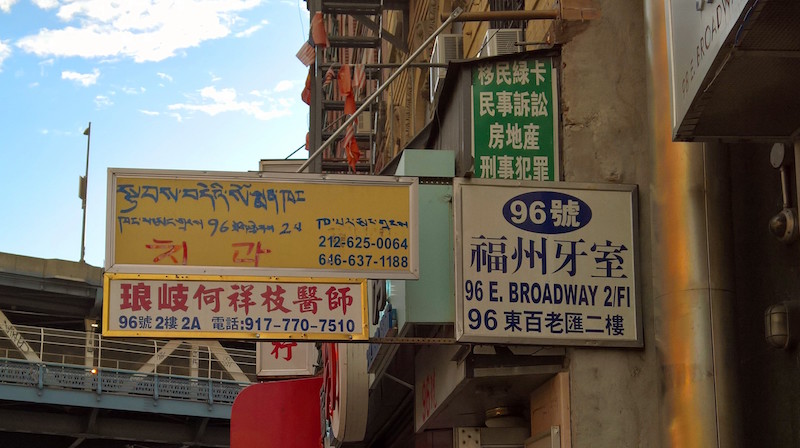 Much of the signage is routine, so I won't transcribe and translate all of it. Most interesting, at least to me, though, is that there seems to be enough business from Tibetans in this part of town that a dentist would go to the trouble of putting up … [Link]
'By hook or by crook' probably comes from a medieval peasant's right to collect firewood. [Link]
Why are persons in dispute said to be 'at loggerheads'? [Link]
Does anyone know if there is a word for words that have the same length and constituent letters, but are not anagrams, such as bee and ebb, and aloof and offal. I received an email from Peter Hewkin today who suggests the word magrang (a magrang of anagram) for such words. Do you have other suggestions? Can you think of … [Link]
An interesting new word I came across recently is sapiophile [seɪpɪofaɪl/sapiofaɪl]. When I first saw it I wasn't sure what it meant, but as soon as I looked it up it made sense. It means "someone who is (sexually) attracted to intelligence / intelligent people" [source]. It comes from the Latin sapiō and the Ancient Greek φιλέω (phileō – I … [Link]
Short form for "usual". What are you doing tonight? The yujé.
[Link]
The pubic hair that sneaks out of a bikini bottom. Man look at the crotch spiders on her. Impressive.
[Link]
The sense of rap meaning a blow or strike is probably echoic in origin. Much like tap and clap, it represents the sound of the blow. The earliest citation in both the Oxford English Dictionary and the Middle English Dictionary is from the poem Roland and Vernagu, found in the Auchinleck manuscript (Edinburgh, National Library of Scotland, Advocates MS 19.2.1), … [Link]
A website for exploring the Hebrew and Greek texts of the Bible. [Link]
Today You Don't Say relocates to a new Web address and new software. You will be able to find it at http://www.baltimoresun.com/news/la~ where … [Link]
There was a mild dustup today on the Internet over, of all things, spelling.The rhubarb started when Anne Trubek flung down the gauntlet with a suggestion in Wi … [Link]
OK so by now you have probably heard about the 14-year-old in Irving, Texas, who was arrested cause he is a fucking genius who built a goddamn clock out of circuit boards and wanted his teachers to be proud of him but instead they were racist at him and he got hauled off by the fucking cops WHO ALSO THINK … [Link]
UPDATE: We've raised $1,560 this week. From Goofus, Lauren, and I, thank you so much for all of your help, you've gotten us out of the woods on this. I've taken down the Paypal donate button. Hey everyone. So earlier this year, we raised some money to help pay for some of the medical costs of getting two kitty sisters … [Link]
Peter Kuskie and Maria Regalado are students at Hillsboro High in Oregon and are on track to receive a new bilingual seal on their diplomas. (Photo: Monica Campbell) Read this post from Monica Campbell. Or listen to the podcast above. Let's take a trip back to September 1995, when Republican presidential candidate Bob Dole was talking about education on the campaign … [Link]
A tense moment during a game of "Mafia" in Kiev, Ukraine. (Photo courtesy of the English Mafia Club of Kiev) Read this post from Alina Simone. Or listen to the podcast above. The storytelling parlor game "Mafia" crosses borders, transcends culture and bridges the language divide in ways you'd never expect. There are no game boards or joysticks involved in Mafia … [Link]
Archive
24 Jun 2016 23 Jun 2016 22 Jun 2016 21 Jun 2016 20 Jun 2016 19 Jun 2016 18 Jun 2016 17 Jun 2016 16 Jun 2016 15 Jun 2016 14 Jun 2016 13 Jun 2016 12 Jun 2016 11 Jun 2016 10 Jun 2016 09 Jun 2016 08 Jun 2016 07 Jun 2016 06 Jun 2016 05 Jun 2016 04 Jun 2016 03 Jun 2016 02 Jun 2016 01 Jun 2016 31 May 2016 30 May 2016 29 May 2016 28 May 2016 27 May 2016 26 May 2016 25 May 2016