Almost everyone uses language, so inevitably almost everyone thinks they are an expert in it. I don't consider myself an expert, though most of my work requires at least language competence and sometimes actual skill, but I do follow the blogs featured on this feeds page.
(If you are wondering where the translation-related feeds have all gone, I have put them on their own page.)
Most of the blogs represented here are in English, most of the time, but don't be surprised to find other languages used. Go with the flow – I occasionally find myself pleasantly surprised at how much I can grasp in languages I have never seen before.
Language On the Net
A boner so strong that it drains the blood from your brain and causes you to faint We saw a nice piece of ass walk by and Tim fainted from Boner Narcolepsy. I had no idea he had that strong a dong.
[Link]
The practice of covering your desk with papers, completed work, and other important-looking papers to give the appearance that you are really busy when really you're surfing the net, watching YouTube vids and doing other non-work things. "My realtor taught me this trick of staging my house for sale so I tried it at work, I started desk staging so … [Link]
This is a very minor issue, but it amused me, so I'm passing it along: in chapter 4 of Gorham's Speaking in Soviet Tongues
(see this post), he is discussing the difficulty of writers (and beginning writers, in the shape of workers' and village correspondents) in dealing with the confusing variety of forms of speech available in the early 1920s, … [Link]
Cara Giaimo writes in Atlas Obscura about a man I knew nothing about, as well as others in his line of work: Long before we had viral quizzes to gather our peculiarities, there was only [Edmond] Edmont—a linguistic assistant who spent the end of the 19th century bicycling around France, speaking to locals, and cataloguing their unique words and phrases. … [Link]
There is some interesting discussion about hybrid languages on episodes of the the World in Words podcast that I listened recently. One episode discuss Chiac, a combination of Acadian French and English spoken in New Brunswick in Canada. Examples include: – J'ai backé mon car dans la driveway – Je prends un large double Americano pour sortir This form of … [Link]
Here's a recording in a mystery language. Can you identify the language, and do you know where it's spoken? [Link]
The phrase take me to your leader is a science fiction cliché, so much so that in the 2007 "Voyage of the Damned" episode of Doctor Who the time-traveling, title character said, "Take me to your leader! I've always wanted to say that!" (Another phrase in that episode that the good doctor always wanted to say was "Allons-y Alonso!") [Link]
Philomena Cunk examines the life and work of William Shakespeare: Cunk, played by comedian Diane Morgan, has this to say about Richard III: Shakespeare wrote loads of plays about royals, known as his history plays. It was his way of pleasing the king and queen by doing stuff about their families, a bit like when your mum buys the local … [Link]
From Steve Kass: My brother is traveling in Portugal and posted this on Instagram. That's all I know.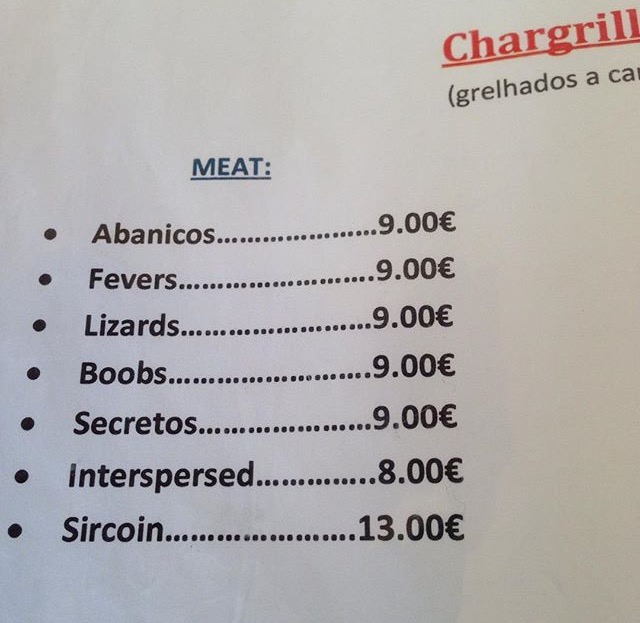 I bet our readers can figure out what Portuguese words were naively mistranslated to create this list — and perhaps even finger the dictionary or translation app responsible. For example, I suspect that "Interspersed" might be a mistranslation of (the Portuguese word … [Link]
It began with a one page think piece by Ted Chiang in the New Yorker (5/16/16) that we describe and discuss here: "Ted Chiang uninvents Chinese characters" (5/13/16) That very quickly led to a withering critique against Chiang by Tom Mullaney, essentially accusing him of "(self-)Orientalizing" (which is meant to be pejorative, for those who are not familiar with the … [Link]
Why are outgoing politicians so called 'lame ducks'? [Link]
'Logomaniac' means an obsessive interest in words. [Link]
Today You Don't Say relocates to a new Web address and new software. You will be able to find it at http://www.baltimoresun.com/news/la~ where … [Link]
There was a mild dustup today on the Internet over, of all things, spelling.The rhubarb started when Anne Trubek flung down the gauntlet with a suggestion in Wi … [Link]
OK so by now you have probably heard about the 14-year-old in Irving, Texas, who was arrested cause he is a fucking genius who built a goddamn clock out of circuit boards and wanted his teachers to be proud of him but instead they were racist at him and he got hauled off by the fucking cops WHO ALSO THINK … [Link]
UPDATE: We've raised $1,560 this week. From Goofus, Lauren, and I, thank you so much for all of your help, you've gotten us out of the woods on this. I've taken down the Paypal donate button. Hey everyone. So earlier this year, we raised some money to help pay for some of the medical costs of getting two kitty sisters … [Link]
Peter Kuskie and Maria Regalado are students at Hillsboro High in Oregon and are on track to receive a new bilingual seal on their diplomas. (Photo: Monica Campbell) Read this post from Monica Campbell. Or listen to the podcast above. Let's take a trip back to September 1995, when Republican presidential candidate Bob Dole was talking about education on the campaign … [Link]
A tense moment during a game of "Mafia" in Kiev, Ukraine. (Photo courtesy of the English Mafia Club of Kiev) Read this post from Alina Simone. Or listen to the podcast above. The storytelling parlor game "Mafia" crosses borders, transcends culture and bridges the language divide in ways you'd never expect. There are no game boards or joysticks involved in Mafia … [Link]
Archive
24 May 2016 23 May 2016 22 May 2016 21 May 2016 20 May 2016 19 May 2016 18 May 2016 17 May 2016 16 May 2016 15 May 2016 14 May 2016 13 May 2016 12 May 2016 11 May 2016 10 May 2016 09 May 2016 08 May 2016 07 May 2016 06 May 2016 05 May 2016 04 May 2016 03 May 2016 02 May 2016 01 May 2016 30 Apr 2016 29 Apr 2016 28 Apr 2016 27 Apr 2016 26 Apr 2016 25 Apr 2016 24 Apr 2016