Almost everyone uses language, so inevitably almost everyone thinks they are an expert in it. I don't consider myself an expert, though most of my work requires at least language competence and sometimes actual skill, but I do follow the blogs featured on this feeds page.
(If you are wondering where the translation-related feeds have all gone, I have put them on their own page.)
Most of the blogs represented here are in English, most of the time, but don't be surprised to find other languages used. Go with the flow – I occasionally find myself pleasantly surprised at how much I can grasp in languages I have never seen before.
Language On the Net
the occurunce of an unwanted erection during a ride in a car, truck boat, airplane, etc. usually occurs on long trips. dude, i hope she doesnt see my road bone. I've had it since we left town and i cant get rid of it!
[Link]
A so-called grown-up who doesn't want to grow up (or at least act like an adult) and would instead prefer so-called "children's" stuff for entertainment, like cartoons, toys, comic books, Disney movies, etc. He or she also enjoys colorful "kiddie" snacks like breakfast cereal and Spaghetti-O's and dresses like a teenager or perhaps younger. May or may not be great … [Link]
Today You Don't Say relocates to a new Web address and new software. You will be able to find it at http://www.baltimoresun.com/news/la~ where … [Link]
There was a mild dustup today on the Internet over, of all things, spelling.The rhubarb started when Anne Trubek flung down the gauntlet with a suggestion in Wi … [Link]
UPDATE: We've raised $1,560 this week. From Goofus, Lauren, and I, thank you so much for all of your help, you've gotten us out of the woods on this. I've taken down the Paypal donate button. Hey everyone. So earlier this year, we raised some money to help pay for some of the medical costs of getting two kitty sisters … [Link]
My pal Beth Wodzinski asked for a vegetarian chili recipe with no onions or garlic (due to an allium sensitvity), afterI posted my award-winning chili recipe. So here is one! Vegetarian chili I just made up right now but is probably great Serves 4-6 1 red bell pepper 1 green bell pepper 1 tbsp red New Mexican chile powder* 1 … [Link]
Sometimes you find an antedating that is much earlier than you expected. Such is the case with blaster, the science fiction word for a ray gun. [Link]
A friend of mine, who is renovating a bathroom in her house, posted the following to Facebook yesterday: The real skylight is one floor above in the bathroom we're renovating. A water leak during demolition banjaxed my entire kitchen ceiling. To which another friend replied: Outstanding use of "banjaxed." I'd never noticed the word before, although I should have as … [Link]
What's the origin of the Australian term 'true blue'? [Link]
How do you say the name of 'Charon', a moon of Pluto? [Link]
I was shocked to learn from wood s lot that the wonderful poet Charles Tomlinson has died. As Michael Yong's Bristol Post obituary says: He was one of the first English men of letters to appreciate the great achievements of the American poets of the mid-20th century, particularly the work of William Carlos Williams, Marianne Moore, Yvor Winters, Louis Zukofsky … [Link]
I read Dan Barry's long NY Times story on hurling because of my interest in Ireland, and I was pleased by "The Connemara team, from the Micheal Breathnach club in Inverin (named after an early-20th-century Irish writer, in keeping with this country's celebration of the word)…" I'd enjoy rooting for the Mets even more if they were the New York … [Link]
Here's a recording in a mystery language. Can you identify the language, and do you know where it's spoken? [Link]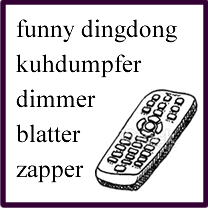 If someone asked you to "pass the funny dingdong", would you know what they wanted? With the context that you are watching TV, you might have a better idea what they wanted. According to Fry's English Delight, a programme about language on BBC Radio Four, funny dingdong is one of the many ways of referring to the TV remote control. … [Link]
I don't have much time this morning, so I'll just point you toward a fun post by Joe Pater on finger drumming. He focuses on iOS apps, and writes that I worry that Android users may be out of luck – I've tried a few apps on a couple different phones, and I found them unusable because of the lag … [Link]
Charles Pierce, "Hillary Clinton Has Run Out of F*cks to Give", Esquire 8/28/2015: My goodness, the special snowflakes of the elite political media are all a'quiver because Hillary Rodham Clinton, who is running for president of the United States, has decided to talk like somebody who wants to be president of the United States, which is to say, she's started … [Link]
Peter Kuskie and Maria Regalado are students at Hillsboro High in Oregon and are on track to receive a new bilingual seal on their diplomas. (Photo: Monica Campbell) Read this post from Monica Campbell. Or listen to the podcast above. Let's take a trip back to September 1995, when Republican presidential candidate Bob Dole was talking about education on the campaign … [Link]
A tense moment during a game of "Mafia" in Kiev, Ukraine. (Photo courtesy of the English Mafia Club of Kiev) Read this post from Alina Simone. Or listen to the podcast above. The storytelling parlor game "Mafia" crosses borders, transcends culture and bridges the language divide in ways you'd never expect. There are no game boards or joysticks involved in Mafia … [Link]
Archive
31 Aug 2015 30 Aug 2015 29 Aug 2015 28 Aug 2015 27 Aug 2015 26 Aug 2015 25 Aug 2015 24 Aug 2015 23 Aug 2015 22 Aug 2015 21 Aug 2015 20 Aug 2015 19 Aug 2015 18 Aug 2015 17 Aug 2015 16 Aug 2015 15 Aug 2015 14 Aug 2015 13 Aug 2015 12 Aug 2015 11 Aug 2015 10 Aug 2015 09 Aug 2015 08 Aug 2015 07 Aug 2015 06 Aug 2015 05 Aug 2015 04 Aug 2015 03 Aug 2015 02 Aug 2015 01 Aug 2015 31 Jul 2015