Almost everyone uses language, so inevitably almost everyone thinks they are an expert in it. I don't consider myself an expert, though most of my work requires at least language competence and sometimes actual skill, but I do follow the blogs featured on this feeds page.
(If you are wondering where the translation-related feeds have all gone, I have put them on their own page.)
Most of the blogs represented here are in English, most of the time, but don't be surprised to find other languages used. Go with the flow – I occasionally find myself pleasantly surprised at how much I can grasp in languages I have never seen before.
Language On the Net
Today You Don't Say relocates to a new Web address and new software. You will be able to find it at http://www.baltimoresun.com/news/la~ where … [Link]
There was a mild dustup today on the Internet over, of all things, spelling.The rhubarb started when Anne Trubek flung down the gauntlet with a suggestion in Wi … [Link]
'Satisficer' contains the idea of the paradox of choice. [Link]
Why is one 'beside oneself' when in the grip of powerful emotions? [Link]
The smell that's left inside a bathroom after someone else has taken a poop. This is an unpleasant smell (unless you like other people's poop smells), and definitely not a smell you'd like to shower in. Roommate #1: Did you just go poop in there? Roommate #2: Yeah, man. Just had a huge cup of coffee and had to go! … [Link]
like a sugar daddy. without the age gap. Why have a sugar daddy when you can have a honeydude ? They last longer.
[Link]
Lapham's Quarterly has a nice profile of etymologist Anatoly Liberman. I don't have much to say about the piece, except to highlight a couple of quotes. On why he pursues etymologies: "Love is the wrong word," he says. "Etymology is not a child or a woman. So there is nothing to love it for. It's the excitement of discovery. Whether … [Link]
The great joy of running this website is that now and again you discover a term that simultaneously connects with great historical figures and events and reveals how language, the most human of inventions, works. The British slang term for a soldier, Tommy, is just such a word. It is short for Tommy Atkins, and the word's history, both purported … [Link]
I just ran across the archaic Russian (really Church Slavic) phrase крины сельные [kriny sel'nye] 'lilies of the field'; the 'lily' part is straightforward (крин = Greek κρίνoν; the modern Russian word is лилия), but the adjective сельный looks like it should be derived from село [selo] 'village,' which is very strange from the semantic point of view. So I … [Link]
I've finally gotten around to reading Robert Bartlett's The Making of Europe: Conquest, Colonization and Cultural Change, 950-1350
, which I bought two decades ago, and have just run across an interesting passage on the history of the miles (horseman/knight): Heavy cavalry retained its importance throughout the period discussed here, 950-1350. Not all such horsemen were knights. Indeed, one of the … [Link]
I have received this notice from several sources in the last few days: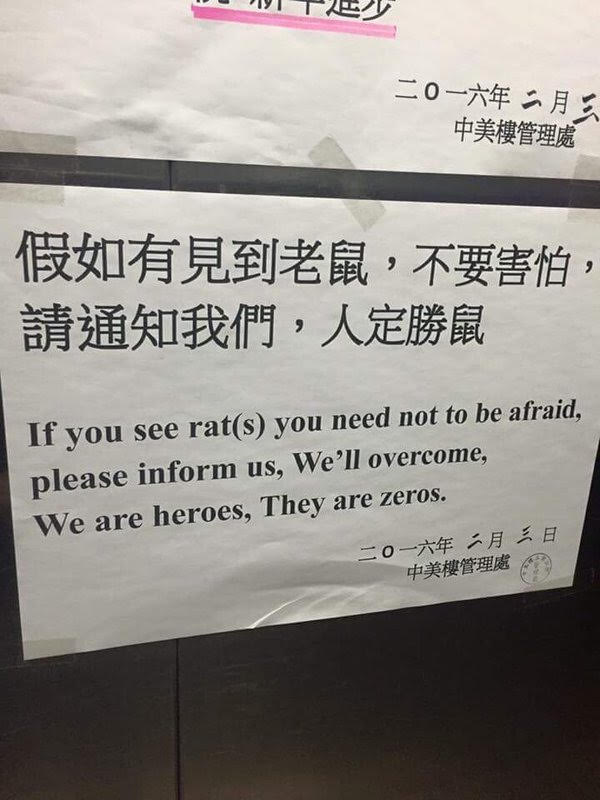 (Source) jiǎrú yǒu jiàndào lǎoshǔ, bùyào hàipà 假如有見到老鼠, 不要害怕, qǐng tōngzhī wǒmen, rén dìng shèng shǔ 請通知我們, 人定勝鼠 If you see rats / mice, don't be afraid, Please notify us, people can definitely overcome rats / mice. The notice was issued by the management office of the … [Link]
The following three items might well have been included in the previous post on Chinglish, but that one got to be rather long and unwieldy, so I'm treating these separately. In any event, I think that they merit the special treatment they are receiving here. 1.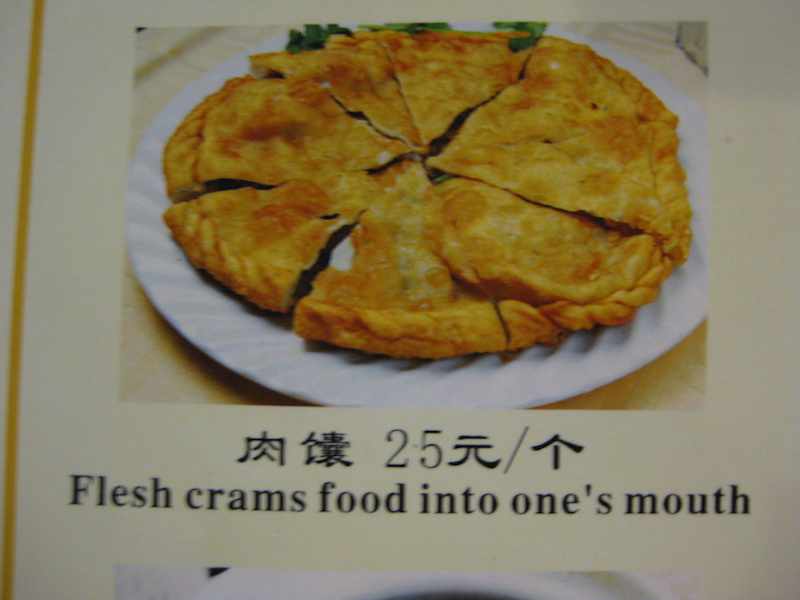 Just two characters, but they got so much out of them! 肉馕 The first … [Link]
Did you know that the practice of putting spaces between words was started by Irish monks writing in Latin? This is what I discovered from an episode of the Allusionist – apparently when Christianity arrived in Ireland in the 6th century and people started writing in Latin, they put spaces between the words to make texts easier to read. Before … [Link]
The title of this post is perhaps an example of litotes [laɪˈtəʊ.tiːz], a figure of speech that uses understatement, particularly double negatives, to make a positive statement [source]. Other examples include: – I didn't do too badly in the test – It's a bit chilly – He's not a bad guitarist Litotes comes from the Ancient Greek λιτότης ‎(litótēs), from … [Link]
OK so by now you have probably heard about the 14-year-old in Irving, Texas, who was arrested cause he is a fucking genius who built a goddamn clock out of circuit boards and wanted his teachers to be proud of him but instead they were racist at him and he got hauled off by the fucking cops WHO ALSO THINK … [Link]
UPDATE: We've raised $1,560 this week. From Goofus, Lauren, and I, thank you so much for all of your help, you've gotten us out of the woods on this. I've taken down the Paypal donate button. Hey everyone. So earlier this year, we raised some money to help pay for some of the medical costs of getting two kitty sisters … [Link]
Peter Kuskie and Maria Regalado are students at Hillsboro High in Oregon and are on track to receive a new bilingual seal on their diplomas. (Photo: Monica Campbell) Read this post from Monica Campbell. Or listen to the podcast above. Let's take a trip back to September 1995, when Republican presidential candidate Bob Dole was talking about education on the campaign … [Link]
A tense moment during a game of "Mafia" in Kiev, Ukraine. (Photo courtesy of the English Mafia Club of Kiev) Read this post from Alina Simone. Or listen to the podcast above. The storytelling parlor game "Mafia" crosses borders, transcends culture and bridges the language divide in ways you'd never expect. There are no game boards or joysticks involved in Mafia … [Link]
Archive
13 Feb 2016 12 Feb 2016 11 Feb 2016 10 Feb 2016 09 Feb 2016 08 Feb 2016 07 Feb 2016 06 Feb 2016 05 Feb 2016 04 Feb 2016 03 Feb 2016 02 Feb 2016 01 Feb 2016 31 Jan 2016 30 Jan 2016 29 Jan 2016 28 Jan 2016 27 Jan 2016 26 Jan 2016 25 Jan 2016 24 Jan 2016 23 Jan 2016 22 Jan 2016 21 Jan 2016 20 Jan 2016 19 Jan 2016 18 Jan 2016 17 Jan 2016 16 Jan 2016 15 Jan 2016 14 Jan 2016