Almost everyone uses language, so inevitably almost everyone thinks they are an expert in it. I don't consider myself an expert, though most of my work requires at least language competence and sometimes actual skill, but I do follow the blogs featured on this feeds page.
(If you are wondering where the translation-related feeds have all gone, I have put them on their own page.)
Most of the blogs represented here are in English, most of the time, but don't be surprised to find other languages used. Go with the flow – I occasionally find myself pleasantly surprised at how much I can grasp in languages I have never seen before.
Language On the Net
UPDATE: We've raised $1,560 this week. From Goofus, Lauren, and I, thank you so much for all of your help, you've gotten us out of the woods on this. I've taken down the Paypal donate button. Hey everyone. So earlier this year, we raised some money to help pay for some of the medical costs of getting two kitty sisters … [Link]
My pal Beth Wodzinski asked for a vegetarian chili recipe with no onions or garlic (due to an allium sensitvity), afterI posted my award-winning chili recipe. So here is one! Vegetarian chili I just made up right now but is probably great Serves 4-6 1 red bell pepper 1 green bell pepper 1 tbsp red New Mexican chile powder* 1 … [Link]
I got back from the Polyglot Gathering in Berlin about an hour ago. I took the train all the way from Berlin to Bangor, via Cologne, Brussels, London, Crewe and Chester, leaving Berlin just before 7am this morning, and arriving in Bangor just after 9pm this evening. On the way there I also travelled by train, though I had to … [Link]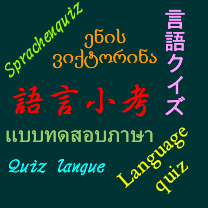 Here's a recording in a mystery language. Can you identify the language, and do you know where it's spoken? [Link]
The phrase 'of that ilk' still bothers some language purists. [Link]
Review of the new edition of 'Fowler's Modern English Usage'. [Link]
Today You Don't Say relocates to a new Web address and new software. You will be able to find it at http://www.baltimoresun.com/news/la~ where … [Link]
There was a mild dustup today on the Internet over, of all things, spelling.The rhubarb started when Anne Trubek flung down the gauntlet with a suggestion in Wi … [Link]
A social media phenomenon where a commenter attempts to demonstrate knowledge obtained by searching on Google. This person has no legitimate degree from an accredited institution in said subject/topic, but will use unverified & inaccurate sources from websites searched on the search engine to prove their point on the topic being discussed. After reading a ridiculous comment from someone that … [Link]
A euphemism for masturbating, especially at work. Hey Chris, it's a slow day here at work. I need to find something to concentrate my efforts on. Maybe it's a good day to service the account!
[Link]
Dinosaur Comics is one of my favorites, often riffing on linguistic issues. Today we get a double bonus: etymology and Anglo-Saxon history. Here is the Big List entry on tawdry. [Discuss this post] [Link]
See dog. [Link]
John Cowan writes: The good folks at Project Wombat have gotten a request for transcription and translation of Swedish text on the backs of some photographs, online here. So far, they've gotten this feedback: My best guesses: Olga Ernie har varit ute och fiskat 'Olga [and] Ernie have been out fishing' The start of the word looks weird, but I … [Link]
A John Cowan comment reminded me I wanted to post about the word obnoxious, which must surely be one of the most difficult words to deal with in reading old documents, since its meaning has changed so confusingly. I discovered this while reading Peter Brown's Through the Eye of a Needle
; in the course of describing how Pope Gelasius helped … [Link]
Cited by Nick Miller, "Stuart Bingham shocks Shaun Murphy in World Snooker Championship final", The Guardian 5/5/2015: "There's not a player who doesn't deserve it less." I'm too tired to work that out but think I agree with Murphy on Bingham — Paul Campbell (@campbellwpaul) May 4, 2015 Misnegation or (un-)compliment? [h/t Paweł Nowak] Update: Ian Preston provides a link … [Link]
The 4/30/2015 Pie Comic: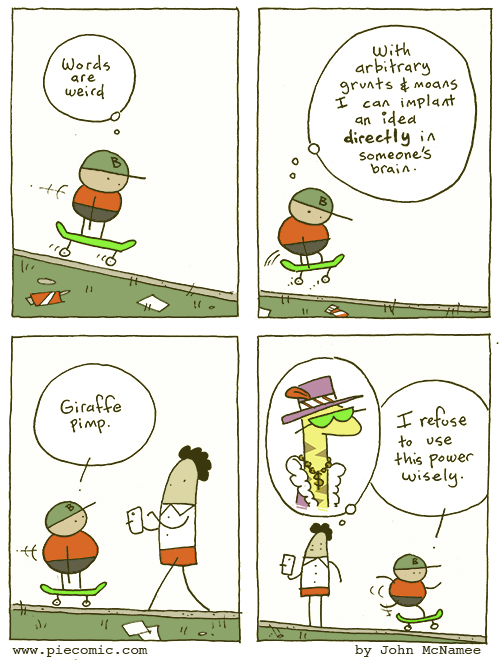 [h/t George Kesteven] The end of Borges' essay "El Idioma Analítico de John Wilkins": Esperanzas y utopías aparte, acaso lo más lúcido que sobre el lenguaje se ha escrito son estas palabras de Chesterton: "El hombre sabe que hay en el alma tintes más desconcertantes, más innumerables y más anónimos que los colores de una selva … [Link]
Peter Kuskie and Maria Regalado are students at Hillsboro High in Oregon and are on track to receive a new bilingual seal on their diplomas. (Photo: Monica Campbell) Read this post from Monica Campbell. Or listen to the podcast above. Let's take a trip back to September 1995, when Republican presidential candidate Bob Dole was talking about education on the campaign … [Link]
A tense moment during a game of "Mafia" in Kiev, Ukraine. (Photo courtesy of the English Mafia Club of Kiev) Read this post from Alina Simone. Or listen to the podcast above. The storytelling parlor game "Mafia" crosses borders, transcends culture and bridges the language divide in ways you'd never expect. There are no game boards or joysticks involved in Mafia … [Link]
Archive
06 May 2015 05 May 2015 04 May 2015 03 May 2015 02 May 2015 01 May 2015 30 Apr 2015 29 Apr 2015 28 Apr 2015 27 Apr 2015 26 Apr 2015 25 Apr 2015 24 Apr 2015 23 Apr 2015 22 Apr 2015 21 Apr 2015 20 Apr 2015 19 Apr 2015 18 Apr 2015 17 Apr 2015 16 Apr 2015 15 Apr 2015 14 Apr 2015 13 Apr 2015 12 Apr 2015 11 Apr 2015 10 Apr 2015 09 Apr 2015 08 Apr 2015 07 Apr 2015 06 Apr 2015