Almost everyone uses language, so inevitably almost everyone thinks they are an expert in it. I don't consider myself an expert, though most of my work requires at least language competence and sometimes actual skill, but I do follow the blogs featured on this feeds page.
(If you are wondering where the translation-related feeds have all gone, I have put them on their own page.)
Most of the blogs represented here are in English, most of the time, but don't be surprised to find other languages used. Go with the flow – I occasionally find myself pleasantly surprised at how much I can grasp in languages I have never seen before.
Language On the Net
Here's a post from Nina Porzucki. There are probably as many terms for different kinds of English vernacular as there are vernaculars themselves: pidgin, patois, slang, creole dialect and so on. But while we usually think of the vernaculars as oral versions of the English language, they're making their way into the written word as well. "There's a really interesting … [Link]
Photo illustration by Augie Schwer/Flickr Here's a post from Nina Porzucki. Quick — what does the French word "chouette" mean? If you flipped open the dictionary and took a look, you'd say it means a type of owl, and it literally does. But the French use it much more frequently to describe something that is cute, neat, nice or friendly — … [Link]
So three years ago, I had an op-ed in the Philly Inquirer on St. Patrick's Day. It's about my family, and the movie Hunger. I'm pretty proud of it. (Linking to it on my blog and not the Inky, because it seems to appear and disappear there.) Happy St. Patrick's Day, and slainte! [Link]
Aside from the logo, the Talk Wordy to Me redesign is complete. I've added a page with information about my editing services and another with links to fiction I have written (not much at the moment but that will change!). I built the blog in my first WordPress self-install (it used to be hosted on WordPress.com) with the Genesis Framework … [Link]
A schoolyard taunt, 'fish-faced' has a surprisingly long history. [Link]
Now defunct, 'Zoilism' once meant a carping and envious critic. [Link]
Today You Don't Say relocates to a new Web address and new software. You will be able to find it at http://www.baltimoresun.com/news/la~ where … [Link]
There was a mild dustup today on the Internet over, of all things, spelling.The rhubarb started when Anne Trubek flung down the gauntlet with a suggestion in Wi … [Link]
Sam Leith at the Guardian (this seems to be Guardian day at LH) has a wonderful appreciation of John Berryman, one of my favorite American poets, who would have turned 100 yesterday; as I told my brother, who sent me the link (thanks, Eric!), I have two copies of The Dream Songs (one of which is a gift from PF … [Link]
From the Guardian, Philip Gross's top 10 writings from the edge of language (2010) is a mixture of things I already know and love ("The Waste Land"), things I know about and have been meaning to investigate (Riddley Walker), and things I'd never heard of but suddenly want to read: 5. Keeping Mum / Llofrudd Iaith by Gwyneth Lewis These … [Link]
From Nicholas Hill: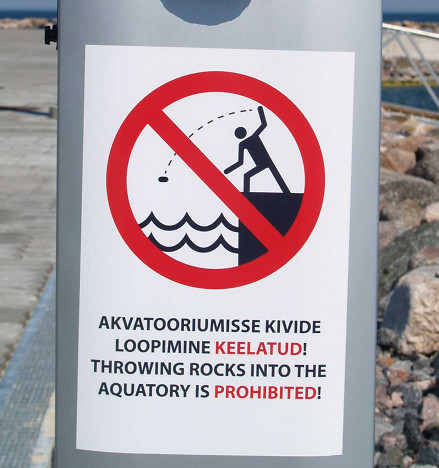 He writes that this photograph … was taken at a marina in the harbour of Kardla on the island of Hiiumaa, Estonia. I've no idea where they got aquatory from. There might be a clue in this discussion in the WordReference Forums: My father said something in Bulgarian and wanted it translated into English. What he said … [Link]
This hauntingly beautiful song is the unofficial anthem of the Hong Kong democracy protest movement: The title of the song is "Boundless Oceans Vast Skies" (hoi2 fut3 tin1 hung1 海闊天空) (" as boundless as the sea and sky; unrestrained and far-ranging"). It is performed by the Hong Kong rock band Beyond. This video brings tears to my eyes and sends … [Link]
Term of endearment usually to a good friend; slang of bitch. Also can be substituted for biatch. What's up, bia?
[Link]
To wear an outfit completely devoid of lower bottom coverings, in the style of Donald Duck. Dominic turned up to the party Full-Donald, and was subsequently arrested for indecent exposure.
[Link]
I came across the interesting word agley today when looking up something else in a Chinese dictionary – the Chinese equivalent is 错 [錯] (cuò). It is a Scots word, pronounced [əˈgli/əˈgləi], that means "off the straight, awry, oblique, wrong". It comes from the word gley (to squint), according to Wiktionary, which is possible related to the Icelandic word gljá … [Link]

I listened to a very interesting programme on the BBC about languages in Bhutan today. It mentioned that although the 19 or so indigenous languages of Bhutan have equal status, in theory at least. In practise, particularly in education, the main languages used are Dzongkha / Bhutanese and English, and to a lesser extent, Nepali. Kids are discouraged from, or … [Link]
Maddie York, an editor at The Guardian, has penned an article for that paper's "Mind Your Language Blog" in which she objects to the use of woman as an adjective, as in woman doctor or woman writer. The subheading for the blog post—which York may not have written, as headlines are often not written by the reporter—reads: 'Woman' is not … [Link]
I was listening to a podcast in which the astrophysicist Neil deGrasse Tyson stated that he was under the impression that the discipline of ergonomics arose when the baby boomers started growing old and began feeling aches and pains. Of course, I had to immediately research the origin of the term, and it turns out Tyson's impression is incorrect. (To … [Link]
Archive
25 Oct 2014 24 Oct 2014 23 Oct 2014 22 Oct 2014 21 Oct 2014 20 Oct 2014 19 Oct 2014 18 Oct 2014 17 Oct 2014 16 Oct 2014 15 Oct 2014 14 Oct 2014 13 Oct 2014 12 Oct 2014 11 Oct 2014 10 Oct 2014 09 Oct 2014 08 Oct 2014 07 Oct 2014 06 Oct 2014 05 Oct 2014 04 Oct 2014 03 Oct 2014 02 Oct 2014 01 Oct 2014 30 Sep 2014 29 Sep 2014 28 Sep 2014 27 Sep 2014 26 Sep 2014 25 Sep 2014