Almost everyone uses language, so inevitably almost everyone thinks they are an expert in it. I don't consider myself an expert, though most of my work requires at least language competence and sometimes actual skill, but I do follow the blogs featured on this feeds page.
(If you are wondering where the translation-related feeds have all gone, I have put them on their own page.)
Most of the blogs represented here are in English, most of the time, but don't be surprised to find other languages used. Go with the flow – I occasionally find myself pleasantly surprised at how much I can grasp in languages I have never seen before.
Language On the Net
So three years ago, I had an op-ed in the Philly Inquirer on St. Patrick's Day. It's about my family, and the movie Hunger. I'm pretty proud of it. (Linking to it on my blog and not the Inky, because it seems to appear and disappear there.) Happy St. Patrick's Day, and slainte! [Link]
Aside from the logo, the Talk Wordy to Me redesign is complete. I've added a page with information about my editing services and another with links to fiction I have written (not much at the moment but that will change!). I built the blog in my first WordPress self-install (it used to be hosted on WordPress.com) with the Genesis Framework … [Link]
When somebody British is 'going spare', look for rage or distress. [Link]
An old word for unrestrained merrymaking, 'corybantic' comes from Greek myth. [Link]
Something you do it for. Mom: Why did you do that? Boy: I do it for the vine.
[Link]
When a couple makes out longer and more furiously than usual My god, I can't take Geoff and Ashley. They just won't stop lipbanging! With me in the room even!
[Link]
Mook is an American slang term for a dull-witted or otherwise person of low status. It's recorded as far back as February 1930 when it appears in The Judge magazine in an article by S. J. Perelman: Even ordinary mooks like you and me have been stuffing their blotters and backs of envelopes in safe deposits for posterity. [Link]
One may wonder at the detail and effort that fivethirtyeight.com put into this article on the national Scrabble championship, but really it's no more silly than the amount of analysis that goes into football (soccer or the other one), baseball, or hockey. [Discuss this post] [Link]
A detail of a window panel at St Helena's Church in Willoughby, Britain (Photo: Patrick Cox) Willoughby, Lincolnshire is a village a few miles inland from the North Sea. It's also the birthplace of adventurer John Smith. Smith was baptized in the village church, St Helena's. The church dates back to the 14th century. There have been several additions in the … [Link]
Tim Hankins helps maintain All Saints Church in Aldwincle, England. Poet John Dryden was born in Aldwincle and baptized in the church. (Photo: Patrick Cox) In the tiny village of Aldwincle in the flat center of England, farmer Tim Hankins helps look after the village's most famous building. Today, he's showing me around All Saints Church. Strictly speaking, it's no longer … [Link]
Today You Don't Say relocates to a new Web address and new software. You will be able to find it at http://www.baltimoresun.com/news/la~ where … [Link]
There was a mild dustup today on the Internet over, of all things, spelling.The rhubarb started when Anne Trubek flung down the gauntlet with a suggestion in Wi … [Link]
I discovered the other day that in Chinese families it is considered impolite to say the equivalents of please and thank you, as this is seen as distancing yourself from other members of the family, so within a family such words are apparently rarely used. Is this correct? Does it vary between families? Although I lived in Taiwan for more … [Link]
Last week I started learning Serbian (српски) in preparation for the Polyglot Conference in Novi Sad in Serbia in October. Whenever I visit a country whose language I don't already speak I learn at least the basics of their language, so I couldn't go to Serbia without learning some Serbian. I'm using online materials, such as Serbian Lessons and an … [Link]
A nice little NY Times story by Emmanuel Vaughan-Lee about the efforts of the family of Marie Wilcox, the last fluent speaker of the Wukchumni language of Central California, to preserve the language and the dictionary she worked on for years; it's accompanied by a short documentary where you can hear her tell bits of a story with onscreen translation … [Link]
As I wrote here, I'm reading Veltman's novel Приключения, почерпнутые из моря житейского (Adventures drawn from the sea of life, 1846-48), and I just got to a bit of dialogue that made me laugh, so I'm sharing it. Grigory Ivanovich and Lukyan Anisimovich are paying a visit to their old friend and former coworker Pamfil Fedoseevich and Lukyan has complained … [Link]
Brian Krebs, "Lorem Ipsum: Of Good & Evil, Google & China", Krebs on Security 8/14/2014: Imagine discovering a secret language spoken only online by a knowledgeable and learned few. Over a period of weeks, as you begin to tease out the meaning of this curious tongue and ponder its purpose, the language appears to shift in subtle but fantastic ways, … [Link]
Tom Mazanec noticed this ad for China Mobile by the baggage claim at the Guangzhou (Canton) Baiyun Airport a few nights ago: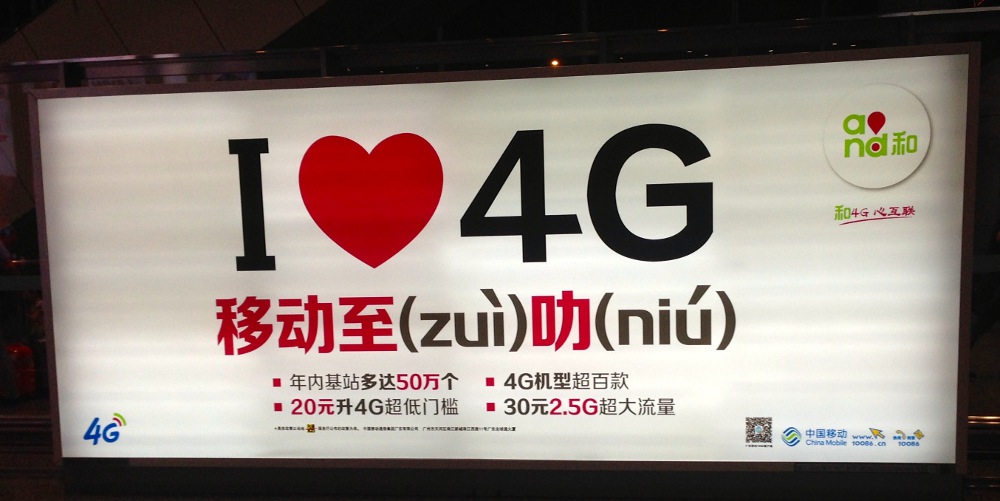 What in the world is going on here? As for the first line of the sign, you don't have to be Chinese to understand it. Although the vast majority of Chinese today can comprehend the first line, it's … [Link]
Archive
20 Aug 2014 19 Aug 2014 18 Aug 2014 17 Aug 2014 16 Aug 2014 15 Aug 2014 14 Aug 2014 13 Aug 2014 12 Aug 2014 11 Aug 2014 10 Aug 2014 09 Aug 2014 08 Aug 2014 07 Aug 2014 06 Aug 2014 05 Aug 2014 04 Aug 2014 03 Aug 2014 02 Aug 2014 01 Aug 2014 31 Jul 2014 30 Jul 2014 29 Jul 2014 28 Jul 2014 27 Jul 2014 26 Jul 2014 25 Jul 2014 24 Jul 2014 23 Jul 2014 22 Jul 2014 21 Jul 2014 20 Jul 2014