Almost everyone uses language, so inevitably almost everyone thinks they are an expert in it. I don't consider myself an expert, though most of my work requires at least language competence and sometimes actual skill, but I do follow the blogs featured on this feeds page.
(If you are wondering where the translation-related feeds have all gone, I have put them on their own page.)
Most of the blogs represented here are in English, most of the time, but don't be surprised to find other languages used. Go with the flow – I occasionally find myself pleasantly surprised at how much I can grasp in languages I have never seen before.
Language On the Net
The unfashionable idiom 'not my pigeon' puzzles a reader. [Link]
The unusual word 'subnivean' is all about snow. [Link]
A modern legal term, _Bona Dude_ means "in good dude" in a cross of Legal Latin and Modern English. The term stresses the entirely "good dude" nature of the person to whom it refers. A "bona dude" is sincere and earnest about being a good dude.First used by @SCOTUSblog on Twitter, 2017 June 26. The Supreme Court of the United … [Link]
Member of the alt-right who proudly shouts their free-speech warrior credentials but lose their minds when a fellow member is critcized. I see a mass of Dave Rubin's broflakes have had Contrapoint's video kicked off YouTube.
[Link]
The armadillo is an American mammal of the order Cingulata. There are a number of species of armadillo, of which the nine-banded armadillo (Dasypus novemcinctus) is perhaps the most familiar to English speakers. That species is found in South and Central America and in the southeastern United States, as far west as Texas and as far north as Nebraska, and … [Link]
In his prepared statement to Congress of 8 June 2017 (released 7 June), former FBI Director James Comey wrote about a 30 March phone call he had with President Trump: The President went on to say that if there were some "satellite" associates of his who did something wrong, it would be good to find that out. Now that's an … [Link]
A fun post from goofy at bradshaw of the future: Guido Crepax's Valentina comics feature a subterranean race with a language that was heavily influenced by Germanic languages – he calls it "Lautverschiebung in reverse" as I noted in my previous post. These stories have recently been published by Fantagraphics in beautiful English editions and I am reading them for … [Link]
Like many people, I've long been fascinated by the concept of "dreamtime" (which I was probably introduced to by the notoriously unreliable Bruce Chatwin); I've also been uneasy about depending on vague thirdhand understanding of what I was aware must be an incredibly complicated cultural complex of ideas. If you're like me, you will welcome as I did the chance … [Link]
Today's Frazz:

[Link]
Today's PhD Comics: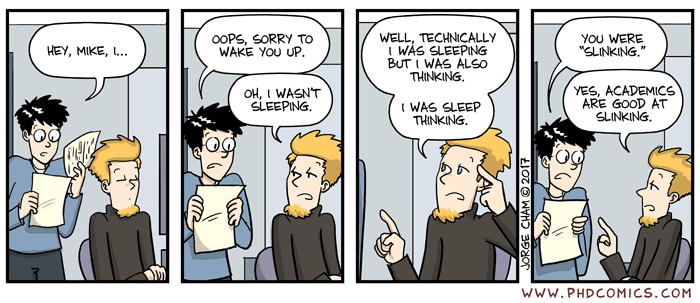 [Link]
I'm currently reading an interesting book – Uncommon Ground – A word-lover's guide to the British landscape by Dominick Tyler. One thing I've learnt from it, is that there are quite a few words in Scottish Gaelic related to hills and mountains: Beinn [beiɲ / beɲə] = mountain, mount; high hill, pinnacle; head, top, high place. It comes from the … [Link]
Here's a recording in a mystery language. Can you identify the language, and do you know where it's spoken? [Link]
Today You Don't Say relocates to a new Web address and new software. You will be able to find it at http://www.baltimoresun.com/news/la~ where … [Link]
There was a mild dustup today on the Internet over, of all things, spelling.The rhubarb started when Anne Trubek flung down the gauntlet with a suggestion in Wi … [Link]
OK so by now you have probably heard about the 14-year-old in Irving, Texas, who was arrested cause he is a fucking genius who built a goddamn clock out of circuit boards and wanted his teachers to be proud of him but instead they were racist at him and he got hauled off by the fucking cops WHO ALSO THINK … [Link]
UPDATE: We've raised $1,560 this week. From Goofus, Lauren, and I, thank you so much for all of your help, you've gotten us out of the woods on this. I've taken down the Paypal donate button. Hey everyone. So earlier this year, we raised some money to help pay for some of the medical costs of getting two kitty sisters … [Link]
Peter Kuskie and Maria Regalado are students at Hillsboro High in Oregon and are on track to receive a new bilingual seal on their diplomas. (Photo: Monica Campbell) Read this post from Monica Campbell. Or listen to the podcast above. Let's take a trip back to September 1995, when Republican presidential candidate Bob Dole was talking about education on the campaign … [Link]
A tense moment during a game of "Mafia" in Kiev, Ukraine. (Photo courtesy of the English Mafia Club of Kiev) Read this post from Alina Simone. Or listen to the podcast above. The storytelling parlor game "Mafia" crosses borders, transcends culture and bridges the language divide in ways you'd never expect. There are no game boards or joysticks involved in Mafia … [Link]
Archive
28 Jun 2017 27 Jun 2017 26 Jun 2017 25 Jun 2017 24 Jun 2017 23 Jun 2017 22 Jun 2017 21 Jun 2017 20 Jun 2017 19 Jun 2017 18 Jun 2017 17 Jun 2017 16 Jun 2017 15 Jun 2017 14 Jun 2017 13 Jun 2017 12 Jun 2017 11 Jun 2017 10 Jun 2017 09 Jun 2017 08 Jun 2017 07 Jun 2017 06 Jun 2017 05 Jun 2017 04 Jun 2017 03 Jun 2017 02 Jun 2017 01 Jun 2017 31 May 2017 30 May 2017 29 May 2017 28 May 2017