Odds and sods I look at regularly, just because they amuse me. I hope they do the same for you. Incidentally, I found this page's title on Greg Ross's Futility Closet (it's somewhere on this page) in a mini-article which also includes the delightful sentence in Icelandic: Barbara Ara bar Ara araba bara rabbabara. Ross points out that this, "besides being fun to say, is spelled with only three letters. It means "Barbara, daughter of Ari, brought only rhubarb to Ari the Arab."
May 6, 1970: Japanese extreme skier Yuichiro Miura became the first person to ski on Mt. Everest. And amazingly, he didn't die. The stunt was filmed and was the subject of a 1975 documentary, The Man Who Skied Down Everest. Check out the clip below.
Miura later became the oldest person to reach the summit of Everest, climbing it at … [Link]
With Xmas just around the bend, the search for presents intensifies. Who wouldn't like a book of photos of women covered in foodstuffs?
More pix here at eBay for as long as the auction is up.
[Link]
Harry says this little scene was the culmination of "a classic washing-up feud" at his office in London. (Kind of adorable, right? I would SO watch a movie about anthropomorphic milk bottles with British accents.)
related: Sorry, I can't hear you over all the chattering appliances
[Link]
Our submitter spotted this namanasty-gram taped to the thermostat of her hot yoga studio in Boise, Idaho.
related: Namaste, asshole
[Link]
[link] [2 comments] [Link]
[link] [38 comments] [Link]
Graph by: WHATSERFACE Tagged: school , rulers , helicopter , Pie Chart Share on Facebook
[Link]
Graph by: (via Apple.copydesk) Tagged: worst , Pie Chart , 2013 , newspaper Share on Facebook
[Link]
View [Link]
If my dogs were a pair of middle-aged men is now available for purchase.View [Link]
Elisabeth Mann Borgese taught her dog to type. In her book The Language Barrier she explains that her English setter, Arli, developed a vocabulary of 60 words and 17 letters, though "He isn't an especially bright dog." "[Arli] could write under dictation short words, three-letter words, four-letter words, two-letter words: 'good dog; go; bad.' And he would type it out. … [Link]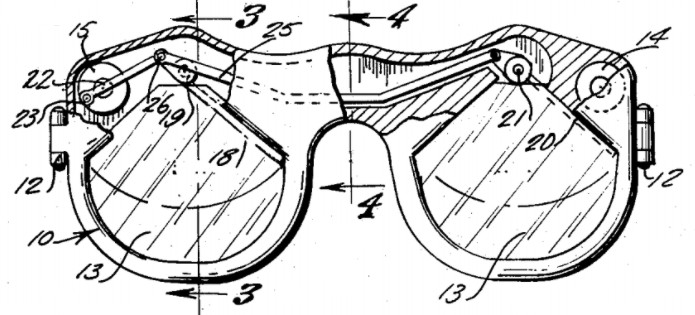 I don't know why this never caught on — in 1959 Klara Karwowska invented little windshield wipers for eyeglasses: The present invention is directed to a wiper means for maintaining the lenses clean or clear of steam, rain, snow, or other foreign matter, and the wiper mechanism of the present invention includes a source of electrical energy such as the … [Link]
Check out some of the good, the bad, and the just plain weird from one of the biggest storms to hit the U.S. in recent memory.
[Link]
If you think Rapunzel is just a fairy tale, you need to meet these folks.
[Link]
Cubicle #1: Oh no, today is Tuesday the 13th! Does that mean anything?
Cubicle #2: Umm… Today is the 12th. Tomorrow is the 13th. And humpday!
Cubicle #1: Oh no! Wednesday the 13th! Does that mean anything?
Cubicle #2: Well, it's the day before Valentine's Day. You got your wife something already, right?
Cubicle #1: Dang! I better think of something quick, right?
Cubicle #2: You … [Link]
Temp: It's so silent in here.
Boss: Don't ruin the magic. East Circle Drive
East Lansing, Michigan [Link]
From the Smart Shopping Team… [Link]
[Link]
GOLDEN, CO—Their eyes widening in amazement as the 43-year-old rattled off the names of heavy hitter after heavy hitter, impressed members of the Dreeshen household confirmed Friday that the roster for their mom's upcoming dinner party was absolutely stacked. "Wow, she's got Joyce from work, Cheri, Dana from yoga, Carol, Carol's new husband—that's all of the A-listers, together under one … [Link]
[Link]
Today, I started my new job as a supervisor. I began by cleaning out my new office, including recycling large sheets of cardboard left over from the new calendars. When the 2nd shift came in, however, they got very upset and yelled at me. Apparently, I had thrown away my Muslim workers' prayer mats. FML [Link]
Today, I got stuck with a water damaged kitchen. The manufactor says their warranty doesn't cover it as it's user error, my insurance says they don't cover it as it's a manufacturer error. FML [Link]
Archive
22 Nov 2017 21 Nov 2017 20 Nov 2017 19 Nov 2017 18 Nov 2017 17 Nov 2017 16 Nov 2017 15 Nov 2017 14 Nov 2017 13 Nov 2017 12 Nov 2017 11 Nov 2017 10 Nov 2017 09 Nov 2017 08 Nov 2017 07 Nov 2017 06 Nov 2017 05 Nov 2017 04 Nov 2017 03 Nov 2017 02 Nov 2017 01 Nov 2017 31 Oct 2017 30 Oct 2017 29 Oct 2017 28 Oct 2017 27 Oct 2017 26 Oct 2017 25 Oct 2017 24 Oct 2017 23 Oct 2017 22 Oct 2017