Odds and sods I look at regularly, just because they amuse me. I hope they do the same for you. Incidentally, I found this page's title on Greg Ross's Futility Closet (it's somewhere on this page) in a mini-article which also includes the delightful sentence in Icelandic: Barbara Ara bar Ara araba bara rabbabara. Ross points out that this, "besides being fun to say, is spelled with only three letters. It means "Barbara, daughter of Ari, brought only rhubarb to Ari the Arab."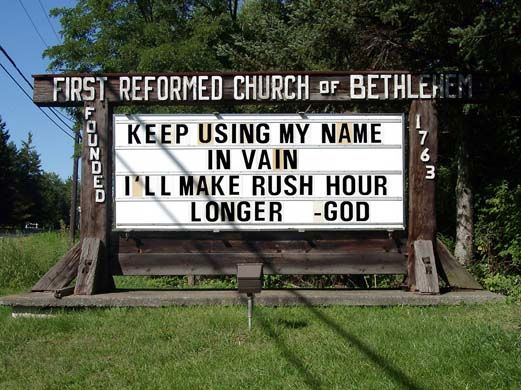 Image: Flickr Church signs, collected by Steve and Pam Paulson for Church Signs Across America, 2006: BE AS GOOD A PERSON AS YOUR PET BELIEVES YOU ARE
THE EASTER BUNNY DIDN'T RISE FROM THE DEAD
BE YOURSELF, EVERYONE ELSE IS TAKEN
DON'T GIVE UP! MOSES WAS ONCE A BASKET CASE
CH CH: WHAT'S MISSING? U R
LIFE IS CHANGE, GROWTH IS … [Link]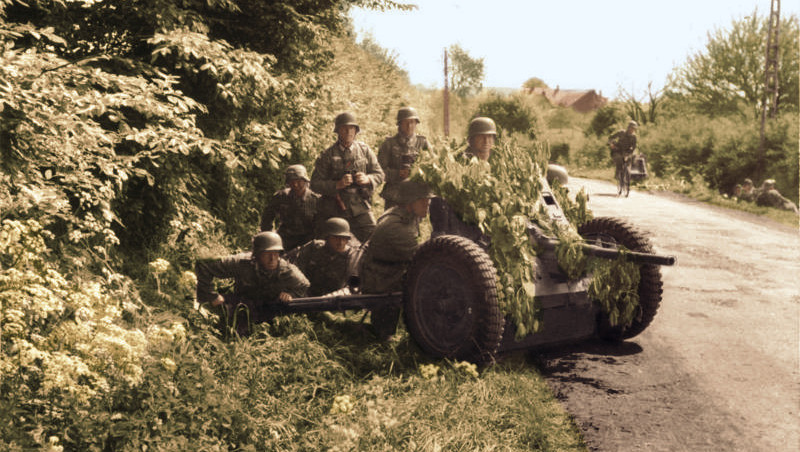 Image: Wikimedia Commons In 1941, the German infantry found that its 3.7 cm Pak 36 anti-tank gun was practically useless against Soviet T-34 tanks — the Pak could only announce its presence by bouncing rounds harmlessly off the tank's rugged armor. Accordingly the Germans nicknamed it Heeresanklopfgerät — literally, "army door-knocking device."
[Link]
Courtship before the invention of social media wasn't necessarily better, but it sure was a heck of alot easier.
[Link]
No one likes to spend that much time traveling to and from their job each day, and as a result, these folks got a little creative. Take a look.
[Link]
The artist is Federico Beltran Masses.
"Hints of drugginess in the eyes, and suggestions of Sapphic eroticism laid on with a trowel, created a sultry visual cocktail that appealed equally to celebrities of the order of Rudolph Valentino, Joan Crawford and King George VI, all of whom had their portraits painted, and the general public."
Full essay here.
[Link]
Edmund Gerstein claims to have invented a "Manatee Alerting Device" (aka MAD) that, when attached beneath a boat, will emit a beam of sound alerting manatees to get out of the way. But it's controversial. Other researchers insist the device will just add more noise to an already noisy underwater environment. It would be like "putting a siren on every … [Link]
Harry says this little scene was the culmination of "a classic washing-up feud" at his office in London. (Kind of adorable, right? I would SO watch a movie about anthropomorphic milk bottles with British accents.)
related: Sorry, I can't hear you over all the chattering appliances
[Link]
Our submitter spotted this namanasty-gram taped to the thermostat of her hot yoga studio in Boise, Idaho.
related: Namaste, asshole
[Link]
View [Link]
View [Link]
[link] [16 comments] [Link]
[link] [19 comments] [Link]
Vietnamese coworker using cardboard to fix cubicle, happily: It's like being in refugee camp all over again. Austin, Texas Republished by Blog Post Promoter [Link]
Man: We're gonna make some bratwurst.
Woman #1: What's the difference between sausage and bratwurst?
Woman #2: Well, bratwurst is German.
Woman #1: So they're just German pigs? Company picnic
Montclair, New Jersey Republished by Blog Post Promoter [Link]
Graph by: Memeboy2 Tagged: blue , Pokémon , red , unfortunate Share on Facebook
[Link]
Graph by: Andizzle35 Tagged: attack , citizens , city , d-c , l-a , los angeles , miami , movies , new york , Pie Chart , washington Share on Facebook
[Link]
From the Smart Shopping Team… [Link]
[Link]
GOLDEN, CO—Their eyes widening in amazement as the 43-year-old rattled off the names of heavy hitter after heavy hitter, impressed members of the Dreeshen household confirmed Friday that the roster for their mom's upcoming dinner party was absolutely stacked. "Wow, she's got Joyce from work, Cheri, Dana from yoga, Carol, Carol's new husband—that's all of the A-listers, together under one … [Link]
[Link]
Today, I started my new job as a supervisor. I began by cleaning out my new office, including recycling large sheets of cardboard left over from the new calendars. When the 2nd shift came in, however, they got very upset and yelled at me. Apparently, I had thrown away my Muslim workers' prayer mats. FML [Link]
Today, I got stuck with a water damaged kitchen. The manufactor says their warranty doesn't cover it as it's user error, my insurance says they don't cover it as it's a manufacturer error. FML [Link]
Archive
19 Aug 2017 18 Aug 2017 17 Aug 2017 16 Aug 2017 15 Aug 2017 14 Aug 2017 13 Aug 2017 12 Aug 2017 11 Aug 2017 10 Aug 2017 09 Aug 2017 08 Aug 2017 07 Aug 2017 06 Aug 2017 05 Aug 2017 04 Aug 2017 03 Aug 2017 02 Aug 2017 01 Aug 2017 31 Jul 2017 30 Jul 2017 29 Jul 2017 28 Jul 2017 27 Jul 2017 26 Jul 2017 25 Jul 2017 24 Jul 2017 23 Jul 2017 22 Jul 2017 21 Jul 2017 20 Jul 2017 19 Jul 2017