Anyone who works as a freelancer these days has to be at least a bit familiar with techie things. But it isn't just that. When I was a kid and those vaguely SF puppet shows were on the television and all the other kids wanted to be Greg Gogetem or Steve Savetheuniverse, I wanted to be the guy in a white coat and glasses called Doc or Brains. Here are some technology-related feeds I find useful and/or entertaining.
Twilio has introduced the Twilio Proxy API, a new API for building private text and voice conversations between customers and mobile workers. This new API is part of the Twilio Engagement Cloud, a suite of Declarative APIs embedded with communications logic for common types of multi-channel customer engagement use cases.
[Link]
Earlier this year, Mapbox launched its Mapbox Unity SDK. With the launch, Mapbox brought a next generation mapping and location platform to their game industry software. In short, Mapbox wants to empower games across the board with the same type of augmented reality maps that led to the smashing success of Pokemon Go.
[Link]
Space Here are eight surprising things NASA has learned so far. Scientists are still analyzing all the juicy data from Juno's first flyby of Jupiter, but the first results have just been published. [Link]
Health With more research, CRISPR could give us a new cancer treatment. A group of researchers recently used the CRISPR gene editing technique to try to eliminate one of the key proteins that allow cancer cells to proliferate out of control. [Link]
A newly found flaw in widely used networking software leaves tens of thousands of computers potentially vulnerable to an attack similar to that caused by WannaCry, which infected more than 300,000 computers worldwide, cybersecurity researchers said on Thursday. From a Reuters report: The U.S. Department of Homeland Security on Wednesday announced the vulnerability, which could be exploited to take control … [Link]
Sara Fischer, writing for Axios: Cord-cutters are ditching their cable packages at the fastest rate ever, opting instead for cheaper, bundled digital TV options, according to the latest Magid Broadcast Study. The trend reflects consumers' preferences to ditch bundled cable packages for more affordable, niche bundled services that can be accessed on TV box tops or on mobile. For consumers, … [Link]
Get "Hacking the Hacker" today using code DEAL and save 50%!This sale ends at 2:00 AM 2017-05-26 (PDT, GMT-8:00).
[Link]
Get "Head First Android Development" today using code DEAL and save 50%!This sale ends at 2:00 AM 2017-05-25 (PDT, GMT-8:00).
[Link]
We recently lost some files on one of our computers, … they just winked out and were gone! It was rather traumatic! Luckily we were testing out Backblaze, as part of their 15 day free trial, and were able to retrieve backups of them within minutes. I really like the seamless way it backs up all your files, offsite and … [Link]
The MoMan says I'm the president and you're not, … Nitrozac wished her non-Net mom Happy Mother's Day, … Snaggy liked SPLIT, is looking for business attire, and wonders Where have all the insects gone? [Link]
Orange you glad about it? [Link]
Childhood pastime thwarted! [Link]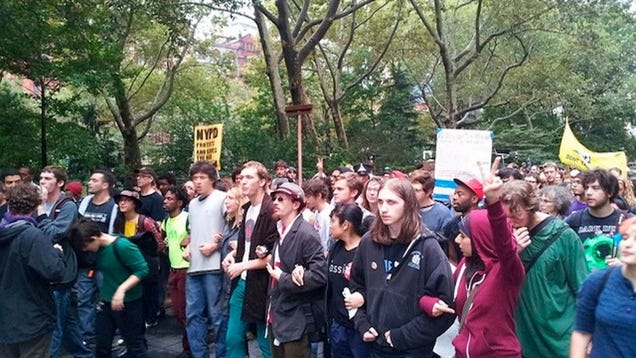 Hitting the streets to make your voice heard is a fundamental right in the United States, and it's part of our country's lifeblood. Whether you're headed out in support or dissent, you should know what you're getting into before you go. Even if you think the event is purely peaceful, someone else, another protest…Read more… [Link]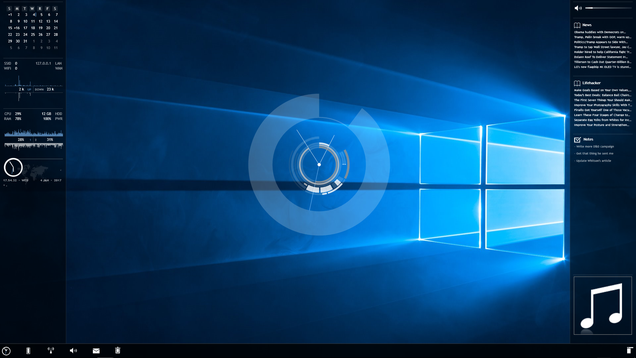 Rainmeter is a powerful tool that lets you create a beautiful, information-rich heads-up display that keeps track of your system status, RSS feeds, and tons of other info. Here's how to use it to make an awesome, Iron Man-like HUD for your Windows desktop.Read more… [Link]
I was trying Omniweb the other day on a very standard page (from the Emacs lisp tutorial by Xah Lee at http://www.ergoemacs.org/emacs/elis~ and I was shocked to see adverts in a box on the right side of the screen. Safari and its extensions had got me used to a web without adverts invasions, without irrelevant contents, and with much less … [Link]
OmegaT 2.0.3_1 was just released, it comes now with a complete Japanese/German/Slovenian UI/tutorial.https://sourceforge.net~ Mac for Translators, the mailing list… [Link]
Five years later, Lyft is finally competing with Uber's roots.  The No. 2 ride-hailing company on Thursday launched Lyft Lux, its version of premium black car rides — the service that Uber launched with in 2009, but that Lyft never really tried out after it launched in 2012.  "You do it all. Your ride should, too. We've added two black car … [Link]
You can't change what you can't see.  That's the motto of Measures for Justice, a nonprofit that just launched an online data portal to address unanswered questions about the American criminal justice system. Though the prison system is highly critiqued by activists, we know very little about what life looks like for the more than 2 million prisoners currently held in … [Link]
Proposals suggest liberals will again be drowned out by the drafters of the most extreme digital policy yet made by any democratic government [Link]
A young neutron star is probably the source of a strange repeating signal previously tracked to a dwarf galaxy 2.4 billion light years away [Link]
Robin Ince just asked if I know any epidemiologist lightbulb jokes. I wrote this for him. How many epidemiologists does it take to change a lightbulb? We've found 12,000 switches hidden around the house. Some of them turn this lightbulb on, some of them don't; some of them only work sometimes; and some of them […] [Link]
People often talk about "trials transparency" as if this means "all trials must be published in an academic journal". In reality, true transparency goes much further than this. We need Clinical Study Reports, and individual patient data, of course. But we also need the consent forms, so we can see what patients were told. We need […] [Link]
Now that Pornhub's going HTTPS, your private browsing will be a lot more private. The post The World's Biggest Porn Site Goes All-In on Encryption appeared first on WIRED. [Link]
Researchers reveal what makes the fang blenny's venom so unique: It's packed with opioid peptides. The post The Fanged Fish That Drugs Its Enemies With Opioids appeared first on WIRED. [Link]
After writing about personal technology for The Times for 13 years, David Pogue will start a consumer technology Web site at Yahoo. [Link]
The Jambox Mini is small enough to fit in a coat pocket and delivers sound that is richer, crisper and louder than the feeble speakers on your phone, tablet or laptop. [Link]
Which gives you the most bang for your buck when it comes to losing weight, exercise or diet? Asapscience breaks it down for you! [AsapSCIENCE] The post Want to Lose Weight? Exercise vs. Diet [Science Video] appeared first on Geeks are Sexy Technology News. [Link]
Star Wars and hip hop together as they were meant to be. WIRED's Eric Steuer demonstrates how to get original trilogy figures doing sick headspins. [Wired] The post How to Make a Classic Stormtrooper Action Figure Breakdance [Video] appeared first on Geeks are Sexy Technology News. [Link]
Archive
25 May 2017 24 May 2017 23 May 2017 22 May 2017 21 May 2017 20 May 2017 19 May 2017 18 May 2017 17 May 2017 16 May 2017 15 May 2017 14 May 2017 13 May 2017 12 May 2017 11 May 2017 10 May 2017 09 May 2017 08 May 2017 07 May 2017 06 May 2017 05 May 2017 04 May 2017 03 May 2017 02 May 2017 01 May 2017 30 Apr 2017 29 Apr 2017 28 Apr 2017 27 Apr 2017 26 Apr 2017 25 Apr 2017 24 Apr 2017