Almost everyone uses language, so inevitably almost everyone thinks they are an expert in it. I don't consider myself an expert, though most of my work requires at least language competence and sometimes actual skill, but I do follow the blogs featured on this feeds page.
(If you are wondering where the translation-related feeds have all gone, I have put them on their own page.)
Most of the blogs represented here are in English, most of the time, but don't be surprised to find other languages used. Go with the flow – I occasionally find myself pleasantly surprised at how much I can grasp in languages I have never seen before.
Language On the Net
Matt Cherett on Buzzfeed said: "Tonight, my friend Frank sent me a link to the Wikipedia entry for RHOBH star Kim Richards, which he'd just rewritten entirely in the passive voice, making it nearly unreadable and, at the same time, infinitely better." He supplied a screenshot. But the spoof rewriting, supposed to be in the passive voice throughout, instead provides … [Link]
A half a dozen people have sent me versions of this clip of Rick Santorum giving a campaign speech on March 27 in Wisconsin: (The relevant passage starts at 34:24 of the recording.) We know we know the candidate Barack Obama, what he was like, the anti-war, government nig- uh the f- the uh America was a source for division … [Link]
Banner headline in this morning's Daily Pennsylvanian: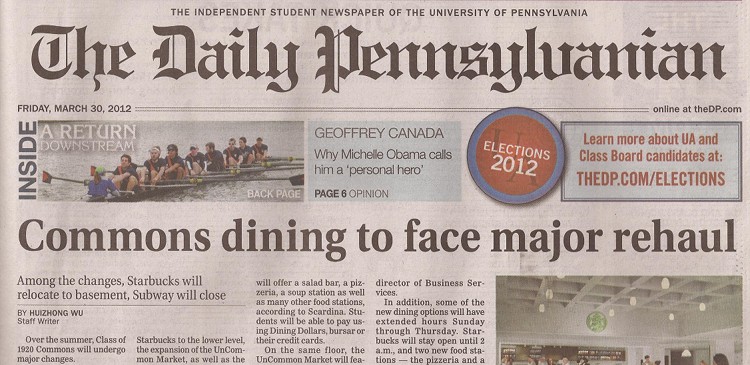 My first thought was that the word rehaul in the headline was a novel blend of overhaul with some amalgam of rehab, remodeling, repair, renewal, etc. But the OED tells us that rehaul as a substitute for overhaul has been around for a while: 1895 Belfast News-let. 27 June 3/3 The Ailsa [sc. … [Link]
The mail carrier recently delivered an Amazon package containing a gift from jamessal, a copy of The Stranger's Child
, by Alan Hollinghurst. I set it aside till I had finished my latest copyediting slog, as a reward, and now that I've started it I can immediately see why Jim called Hollinghurst "a world-class writer" and wanted to share the book … [Link]
I came across an interesting article on the BBC News website today about the predominant use of British accents for characters in fantasy worlds, such as the Game of Thrones and Lord of the Rings. Game of Thrones is apparently aimed at American audiences, adapted from books by George RR Martin, an American author, but almost all the characters speak … [Link]
The amount of time it takes an Apple product to get old, from the day it is purchased. An Apple Year is usually less than one month, although it depends based on the product I can't believe this! I bought the iPad just an Apple Year ago, and now they're coming out with a new one!
[Link]
Archive
21 Feb 2018 20 Feb 2018 19 Feb 2018 18 Feb 2018 17 Feb 2018 16 Feb 2018 15 Feb 2018 14 Feb 2018 13 Feb 2018 12 Feb 2018 11 Feb 2018 10 Feb 2018 09 Feb 2018 08 Feb 2018 07 Feb 2018 06 Feb 2018 05 Feb 2018 04 Feb 2018 03 Feb 2018 02 Feb 2018 01 Feb 2018 31 Jan 2018 30 Jan 2018 29 Jan 2018 28 Jan 2018 27 Jan 2018 26 Jan 2018 25 Jan 2018 24 Jan 2018 23 Jan 2018 22 Jan 2018 21 Jan 2018