Odds and sods I look at regularly, just because they amuse me. I hope they do the same for you. Incidentally, I found this page's title on Greg Ross's Futility Closet (it's somewhere on this page) in a mini-article which also includes the delightful sentence in Icelandic: Barbara Ara bar Ara araba bara rabbabara. Ross points out that this, "besides being fun to say, is spelled with only three letters. It means "Barbara, daughter of Ari, brought only rhubarb to Ari the Arab."
[link] [123 comments] [Link]
BAKERSFIELD, CA—Don and Nancy Gruber had a new dishwasher installed, and the guy who put it in stayed for lunch.
[Link]
[link] [64 comments] [Link]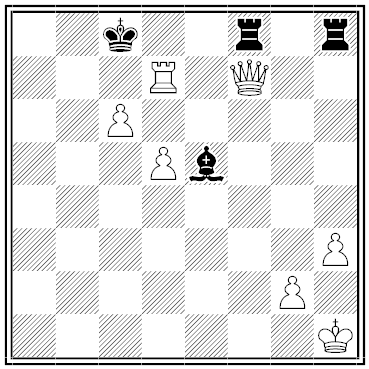 From Stratagems of Chess, 1817. White to mate in two moves. Click for solution …
[Link]
According to the coroner who conducted the autopsy on singer Whitney Houston, cocaine was a factor in her drowning death.
[Link]
[link] [85 comments] [Link]
Today, I was yelled at for smoking at a bus stop, because a woman didn't appreciate me smoking by her children. She did this while waving her own lit cigarette in my face. FML
[Link]
The Easter Bunny is a beloved springtime character, but look deeper and you'll realize nobody gives away that much chocolate unless they're hiding something.
KEVIN LAMARQUE/Reuters /Landov He Can't Even Cover the Whole World! Say what you will about Santa Claus, but at least he's delivering presents the world over. The shiftless Easter Bunny outsources egg and candy distribution in … [Link]
Kentucky's shot-blocking frosh sensation has been unselfish, versatile, and seemingly everywhere on the floor during the NCAA Tournament.
[Link]
Today, in health class we were watching a documentary about anxiety. My teacher asked if any of us often feel anxious. I was too anxious to raise my hand, and went into a minor panic attack. FML
[Link]
[link] [45 comments] [Link]
[link] [80 comments] [Link]
[link] [33 comments] [Link]
[link] [117 comments] [Link]
Teenage Girls To Watch In 2012
[Link]
A study finds that newborn infants can tell if their parents are losers, all 6.5 million residents of Indiana join together to form a collective consciousness, and Ray Ban is unsure the public can pull off its 2012 series of sunglasses.
[Link]
[link] [94 comments] [Link]
Talk about fracking talented! These guys have started building a full, virtual, BSG Viper simulator in their garage. The Bay Area high school kids are funding the project through Kickstarter and will unveil it this May, at Maker Faire 2012. I found out about this from Mashable, which says "The basic idea: mount the fuselage of a small plane (a … [Link]
[link] [108 comments] [Link]
Are you planning to celebrate National Stuff That Was Popular When You Were a Kid Day on Monday? I understand if you're not, as it's a new holiday that we're inventing. Reader Virginia Scott suggested it in our Make Up Your Own Holiday contest. (Monday is also National Make Up Your Own Holiday Day.) We'll be celebrating here throughout that … [Link]
[link] [82 comments] [Link]
Man Who Just Assembled Desk Not Sure How He Has Every Screw Left Over
[Link]
[link] [447 comments] [Link]
[link] [850 comments] [Link]
'No Buzzer Beaters, No Overtime Games So Far,' Reports Man To Himself
[Link]
If you wish your morning news show was a bit more like our Amazing Fact Generator, you may want to gravitate to CBS This Morning. Earlier this month, Charlie Rose, Erica Hill and Gayle King started working fun mental_floss facts into the broadcast. The facts look good on TV! [Link]
It's a question that music historians have been fighting over for decades: What was the first rock 'n' roll song?
Gold record image via Shutterstock Though commercially successful singles like Bill Haley & The Comets' "Rock Around The Clock" (1954), Little Richard's "Tutti Frutti" (1955) and Elvis Presley's "Hound Dog" (1956) were among the songs that popularized the genre and … [Link]
[link] [57 comments] [Link]
SLIDELL, LA—Local man Timothy Nolan announced Friday that after initially struggling to get into the right frame of mind for a new project, he had finally gotten his horrible creative juices flowing.
[Link]
[link] [146 comments] [Link]
[link] [86 comments] [Link]
[link] [59 comments] [Link]
Oh wow. Every clip of McBain from "The Simpsons," cut together in sequence. Put down the donut and enjoy McBain's witticisms and gunplay: "Ice to see you" indeed. For exhaustive details on McBain, check out this page. See also: Watching 130 Episodes of "The Simpsons" Simultaneously and Every "Itchy & Scratchy Show" Ever. [Link]
[link] [24 comments] [Link]
[link] [241 comments] [Link]
FORT MYERS, FL—A run-of-the-mill medium-speed ground ball has been hit right up the middle in such textbook fashion that it is nearly impossible for anything—anything in the entire world—to go wrong before the shortstop can field it, bal…
[Link]
[link] [95 comments] [Link]
Maple Leaf image via Shutterstock I can't tell you how many times I've been complimented on the safe, peaceful oasis that is my homeland. I've been petted and cooed at in public; laughed at by airport security when my passport was presented; had my socks pilfered during a routine mugging in Baltimore after a red and white flag was found … [Link]
[link] [23 comments] [Link]
Earlier this week I came across Every "Itchy & Scratchy Show" Ever, and went to see if its creator MrBestDeni had made more "Simpsons" stuff. Turns out he has. In the video experiment below, he runs 130 episodes of the show simultaneously, in a grid, for about three and a half minutes. The result is an extremely weird visual experiment … [Link]
Cookie image via Shutterstock My girlfriend loves a good romantic comedy (to be fair, she'll watch mediocre and bad ones, too). So on weekend afternoons, our TV is often tuned to whatever quirky love story TNT/TBS/USA is running on a constant loop. Usually, these movies will climax with the female lead's love interest asking for her hand in marriage in … [Link]
[link] [23 comments] [Link]
[link] [86 comments] [Link]
The Hunger Games, the hotly anticipated film adaptation of the young adult novel in which teens have to fight to the death, opens today.
[Link]

Fitting that the UK has been referred to as the Nanny State because the over protective idiocy has filtered down to the playground. There is now a 'No best friend' policy at some elementary schools. This is to protect all the little snowflakes from the trauma of have a falling out with their best friend. If this is the way … [Link]
[link] [127 comments] [Link]
[link] [35 comments] [Link]
[link] [78 comments] [Link]
[link] [20 comments] [Link]
Today, a client shouted at me over something that had nothing to do with me. She put such effort into shouting that she farted in my office. FML
[Link]
Today, my job application was rejected because I was overqualified. This is the same company that rejected me 2 years ago for being under-qualified. FML
[Link]
[link] [120 comments] [Link]
[link] [179 comments] [Link]
[link] [43 comments] [Link]
Some of the people in this quiz led their teams into the Sweet Sixteen of this year's NCAA men's basketball tournament. Others celebrated their sweet sixteen while enjoying a lucrative career in pop music. Can you pick the college coaches from the teen pop stars? Take the Quiz: Coach or Pop Star? [Link]
This week's 5 Question quiz theme is Author, Author, with book titles appearing in the questions. Friday: Nora Roberts. [Link]
[link] [146 comments] [Link]
[link] [34 comments] [Link]
[link] [29 comments] [Link]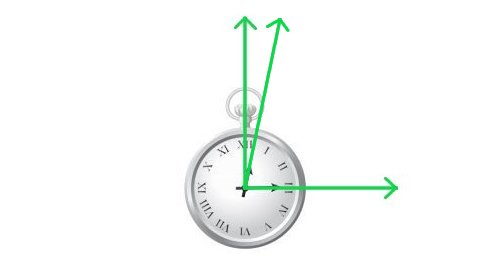 It's impossible to trisect an angle using a compass and a straightedge, but in 1947 Leo Moser showed how to do it with a pocketwatch. At noon align the watch's hands with one side of the angle (above, XII), then wait until the minute hand has crossed to the other side (III). At that point the hour hand will have … [Link]
ATLANTA—In a press conference today regarding the Wildcats' Sweet 16 matchup, Kentucky coach John Calipari revealed to reporters he does not plan to switch up his strategy, which thus far has been to put in athletes who are much more gifted basketba…
[Link]
[link] [31 comments] [Link]
[link] [28 comments] [Link]
[link] [33 comments] [Link]
Today, I went to the movies with my boyfriend, and ended up sitting next to this girl who wouldn't stop sneezing. Grossed out, I asked my boyfriend if we could switch seats. After doing so, the girl immediately stopped sneezing and started flirting with him. FML
[Link]
[link] [66 comments] [Link]
[link] [34 comments] [Link]
Boss's Going-Away Party A Little Too Jubilant
[Link]
[link] [19 comments] [Link]
Secret Service Aids White House Invaders A family of ducks walked through the lawn of the White House on Wednesday, though they needed some help doing it. A mother duck broached the perimeter, but the ducklings following her struggled to mount the concrete barrier. Secret Service agents came to the rescue, and lifted the ducklings through a fence. The agents … [Link]
[link] [10 comments] [Link]
[link] [38 comments] [Link]
[link] [25 comments] [Link]
Today, I found out my marriage counselor is currently going through her second divorce. FML
[Link]
[link] [67 comments] [Link]
El Empleo / The Employment from opusBou on Vimeo.
Comments [Link]
[link] [165 comments] [Link]
[link] [120 comments] [Link]
A small town Texas politician did something very unusual recently. He thought about the best interest of the city and its citizens by laying himself off from his city manager position. There are also two assistant city managers and Dan O'Leary decided it was not necessary for Keller, Texas to have three managers. He then chose his own position as … [Link]
[link] [37 comments] [Link]
[link] [111 comments] [Link]
Today, I was accused of being high. Why? Because I was playing with a milk bottle. FML
[Link]
Based on the pandemonium Elvis Presley had generated the last two times he played Jacksonville, Florida, Colonel Tom Parker, his manager, booked him for six shows over two days in August of 1956. All six shows would be at the Florida Theater, a medium-sized venue that held about 2,200 people.
The 21-year-old Elvis was quickly becoming a national celebrity based on … [Link]
Here's a new mentalfloss.com Brain Game Free-for-All Friday challenge. Good luck: TAKE, MOTEL, LUCKY, _______, CLOUD, HANG What's the missing word above, and why: FEVER, FIGURE, or FUTURE?
Here is the ANSWER. [Link]
Today, I went down on my girlfriend for the first time. Let's just say pubes and toilet paper residue were the least of my problems. FML
[Link]
If people bought this 1950 edition of The Lottery
by Shirley Jackson thinking it would be a sex-filled potboiler, they were in a for a bit of a disappointment.
Comments [Link]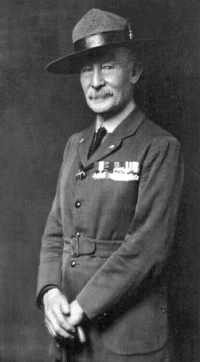 In writing the first edition of Scouting for Boys in 1908, Robert Baden-Powell planned to include a section on self-abuse. "You all know what it is to have at times a pleasant feeling in your private parts," he wrote, "and there comes an inclination to work it up with your hand or otherwise. It is especially likely to happen when … [Link]
[link] [421 comments] [Link]
Unseen Titanic is the story of the wreckage that lies at the bottom of the ocean, 100 years after the ship sank. NatGeo also has the first pictures ever of the entire ship, stitched together from hundreds of images to show the enormous wreck in its resting place.
*
Top 10 Mad Men Essentials. See authentic 1966 collectable accessories that … [Link]
When you pay attention, you start seeing schlongs everywhere!
[Link]
[link] [61 comments] [Link]
[link] [46 comments] [Link]
[link] [74 comments] [Link]
Today, I spotted a $100 bill on the ground. Being a little strapped for cash, I excitedly picked it up. I discovered it was one of those religious tract papers made to look like a folded bill, with a message scolding me for being greedy. FML
[Link]
Today, I was learning to drive a stick when a cop decided to pull me over just to laugh at me. FML
[Link]
[link] [192 comments] [Link]
[link] [39 comments] [Link]
[link] [28 comments] [Link]
[link] [48 comments] [Link]
[link] [65 comments] [Link]
[link] [42 comments] [Link]
[link] [71 comments] [Link]
Happy spring, _flossers! It's Thursday night, which means, once again, it's time for the game that's sweeping the nation…GUESS THE THEME! All the clips below have something in common. Leave your best guesses in the comments. The Beatles – "Blackbird" Bob Marley – "Buffalo Soldier" Owl City – "Fireflies" R.E.M. – "Orange Crush" The Commodores – "Brick House" [Link]
Today, I twisted my ankle during a round of golf, after trying to do a fancy jumping high five. FML
[Link]
Today, while I was on the bus to work, a morbidly obese man sat down next to me. When my stop came and I stood up to get off, he just looked at me, said with a smirk, "good luck with that," and went back to reading his paper. I missed my stop. FML
[Link]
[link] [33 comments] [Link]
Archive
21 Feb 2018 20 Feb 2018 19 Feb 2018 18 Feb 2018 17 Feb 2018 16 Feb 2018 15 Feb 2018 14 Feb 2018 13 Feb 2018 12 Feb 2018 11 Feb 2018 10 Feb 2018 09 Feb 2018 08 Feb 2018 07 Feb 2018 06 Feb 2018 05 Feb 2018 04 Feb 2018 03 Feb 2018 02 Feb 2018 01 Feb 2018 31 Jan 2018 30 Jan 2018 29 Jan 2018 28 Jan 2018 27 Jan 2018 26 Jan 2018 25 Jan 2018 24 Jan 2018 23 Jan 2018 22 Jan 2018 21 Jan 2018