Almost everyone uses language, so inevitably almost everyone thinks they are an expert in it. I don't consider myself an expert, though most of my work requires at least language competence and sometimes actual skill, but I do follow the blogs featured on this feeds page.
(If you are wondering where the translation-related feeds have all gone, I have put them on their own page.)
Most of the blogs represented here are in English, most of the time, but don't be surprised to find other languages used. Go with the flow – I occasionally find myself pleasantly surprised at how much I can grasp in languages I have never seen before.
Language On the Net
I was reading a review in the TLS when I came across the assertion that "In 1869 — an annus mirabilis for sexology, the 'scientific' study of sex — the German-born Hungarian nationalist Karl-Maria Kertbeny (born Benkert) coined the term 'homosexual.'" I had two questions about this: what's the deal with "Kertbeny (born Benkert)," and did he really coin that … [Link]
Zachary Woolfe, "Hyper-High Notes", NYT 11/10/2017: I wrote this week about the highest note in the history of the Metropolitan Opera, an A above high C currently being sung by Audrey Luna in Thomas Adès's "The Exterminating Angel." In my brief rundown of high-note history, I referred to the French soprano Mado Robin "shrilling" up to a high B flat; … [Link]
From twimg.com (Twitter images):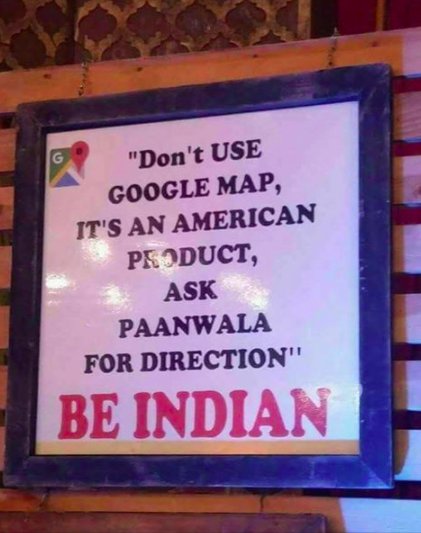 Found this delightful definition of "paanwala" on BRF Dictionary: This may also be spelled as "paanwallah". Literally taken, this means "betel leaf seller". It is composed of two Hindi words, "Paan", which means "betel leaf" and "wala" (or "wallah") which means "person associated with". Betel leaf and areca nut is a common breath freshener in India … [Link]
How are ladders and schools connected? Well, in Welsh there is one word that means both ladder and school: ysgol [ˈəsgɔl]. The word ysgol, meaning ladder, comes from the Middle Welsh yscawl [ˈәsgaul] (ladder), from Latin scāla (ladder, stairs), from scandō (I climb, ascend, mount), from the the Proto-Indo-European *skend- (to jump). Related words include: – ysgol do/grib = roof-ladder … [Link]
The loss of feeling in the legs due to prolonged smartphone use whilst sitting down, in particular on the toilet. "Whoa candy crush just gave me mad smartphone dead leg on that last poo break!"
[Link]
Archive
23 Jan 2018 22 Jan 2018 21 Jan 2018 20 Jan 2018 19 Jan 2018 18 Jan 2018 17 Jan 2018 16 Jan 2018 15 Jan 2018 14 Jan 2018 13 Jan 2018 12 Jan 2018 11 Jan 2018 10 Jan 2018 09 Jan 2018 08 Jan 2018 07 Jan 2018 06 Jan 2018 05 Jan 2018 04 Jan 2018 03 Jan 2018 02 Jan 2018 01 Jan 2018 31 Dec 2017 30 Dec 2017 29 Dec 2017 28 Dec 2017 27 Dec 2017 26 Dec 2017 25 Dec 2017 24 Dec 2017