Almost everyone uses language, so inevitably almost everyone thinks they are an expert in it. I don't consider myself an expert, though most of my work requires at least language competence and sometimes actual skill, but I do follow the blogs featured on this feeds page.
(If you are wondering where the translation-related feeds have all gone, I have put them on their own page.)
Most of the blogs represented here are in English, most of the time, but don't be surprised to find other languages used. Go with the flow – I occasionally find myself pleasantly surprised at how much I can grasp in languages I have never seen before.
Language On the Net
At least, we're five months away from April Fool's Day…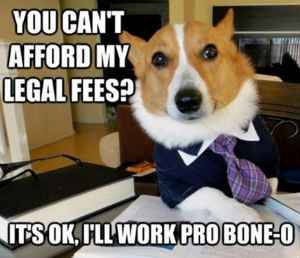 Lydia Wheeler, "Court rules request for 'lawyer dog' too 'ambiguous'", The Hill 10/30/2017: The Louisiana Supreme Court won't hear an appeal from a man who claimed he told police during an interview to "just give me a lawyer dog," with a justice saying the request was "ambiguous." […] [D]etectives reportedly advised … [Link]
"What is the difference between 'reasonably necessary' and 'substantial need'?" asked Supreme Court Justice Samuel Alito (see this story in the New York Times). "I have been racking my brain trying to think of something that it is reasonably necessary for me to obtain but as to which I do not have the substantial need. And I can't think of … [Link]
[This is a guest post by Jichang Lulu] After coverage of dotage and DOLtage, as diagnosed by the Korean Central News Agency (KCNA), Victor Mair's latest Korean-themed post deals with a more serious condition: headlessness. Varieties of the ailment have been reported in, e.g., chickens and compound nouns, but the latter sense would be out of place in KCNA vocabulary; … [Link]
Jeff DeMarco writes: From a Facebook post (timeline) by a young woman in HK: 卡拉ok ing ……😂🤣 GT deftly translates it as karaoke ing. That's an interesting construction (where "kǎlā 卡拉" is a transcription for "kara"). My results with Google Translate differed: 卡拉ok ing –> Karaoke (though it did list "Kara ok ing" as an alternative) 卡拉ok –> Karaoke ok … [Link]
I'm still reading Kim Stanley Robinson's Aurora
(thanks, Songdog!), and I've come to a couple of passages about language I thought were interesting enough to pass along. The speaker is a starship's artificial intelligence; here's the first passage: We sense this, we aggregate that, we compress information to some new output, in the form of a sentence in a human … [Link]
The 45th President of the USA, Donald Trump "Despite the negative press covfefe" Random User: Well, shit. President toddler's at it again!
[Link]
Archive
23 Jan 2018 22 Jan 2018 21 Jan 2018 20 Jan 2018 19 Jan 2018 18 Jan 2018 17 Jan 2018 16 Jan 2018 15 Jan 2018 14 Jan 2018 13 Jan 2018 12 Jan 2018 11 Jan 2018 10 Jan 2018 09 Jan 2018 08 Jan 2018 07 Jan 2018 06 Jan 2018 05 Jan 2018 04 Jan 2018 03 Jan 2018 02 Jan 2018 01 Jan 2018 31 Dec 2017 30 Dec 2017 29 Dec 2017 28 Dec 2017 27 Dec 2017 26 Dec 2017 25 Dec 2017 24 Dec 2017