Almost everyone uses language, so inevitably almost everyone thinks they are an expert in it. I don't consider myself an expert, though most of my work requires at least language competence and sometimes actual skill, but I do follow the blogs featured on this feeds page.
(If you are wondering where the translation-related feeds have all gone, I have put them on their own page.)
Most of the blogs represented here are in English, most of the time, but don't be surprised to find other languages used. Go with the flow – I occasionally find myself pleasantly surprised at how much I can grasp in languages I have never seen before.
Language On the Net
Speakers of Northeastern / Dongbei topolect and Putonghua (Modern Standard Mandarin) speaking very common equivalent expressions and holding up cards with the written forms of what they are saying: Northeastern / Dongbei topolect and Putonghua are both supposed to be closely related topolects of Mandarin, but — even if you know neither of them — just watching and listening to … [Link]
Short but sweet; courtesy of Grant Barrett's Facebook feed, I present this snippet from James McQuade's The Cruise of the Montauk to Bermuda, the West Indies and Florida (1890): But everywhere we hear the insufferable abbreviation of "pants" for pantaloons. Abbreviated pantaloons are breeches. Then it is not a solid English word, but an Italian derivative, and although the use … [Link]
I'm off to Reykjavik tomorrow for the Polyglot Conference. This will be my first time in Iceland, and I'm looking forward to it very much. I've been studying Icelandic with Colloquial Icelandic and Memrise for about a month now. I won't be having complex conversations just yet, but do at least know some basics. I've found quite a few Icelandic … [Link]
I'm happy to see that Google Translate is still turning (many types of) meaningless character sequences into spoken-word poetry. Repetitions of single hiragana characters are an especially reliable source — here's "You need to know something":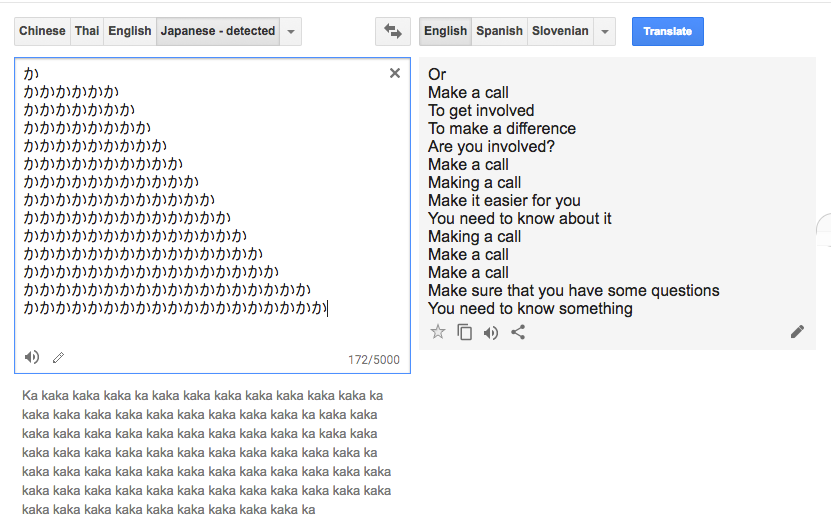 And "I feel a strange feeling":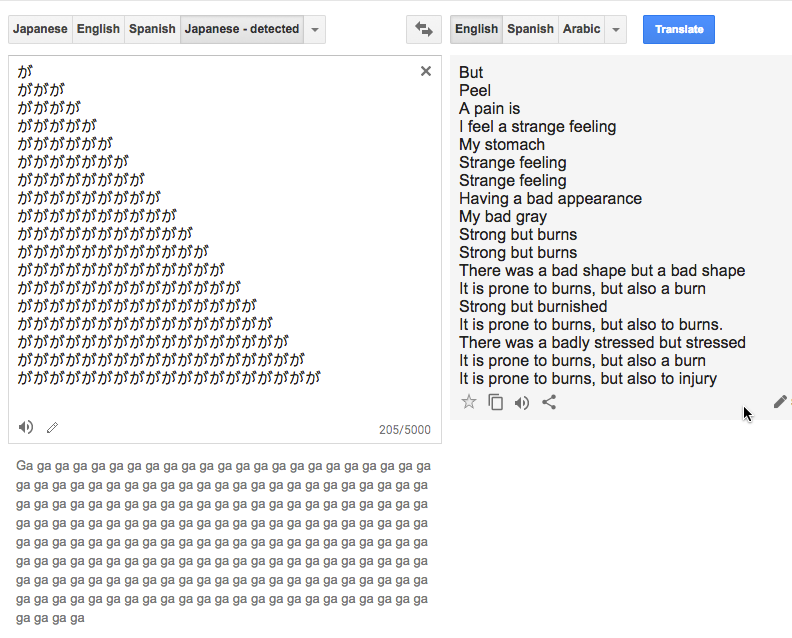 And "Stay free to leave":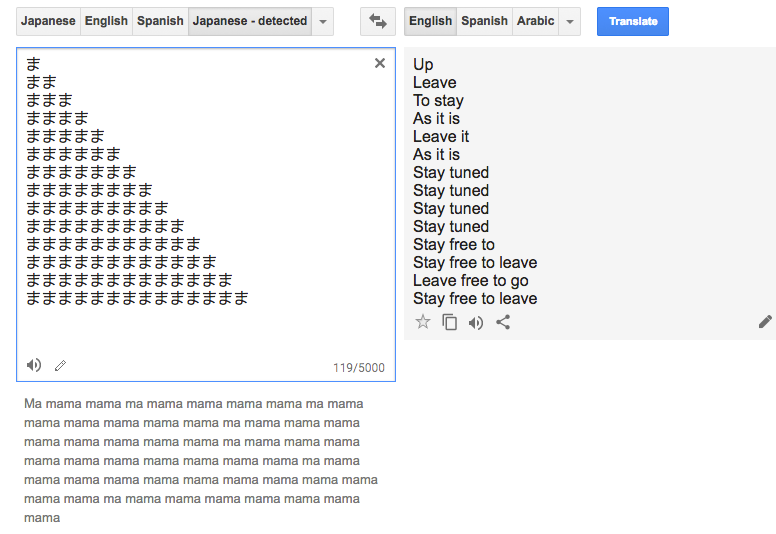 Repeated combinations also often work — here's repetitions of "Ga mama" rendered as … [Link]
A "man's" handshake. When you squeeze someone's hands so hard that you make them kneel down from the pain that you are inflicting on their knuckles.Typically done by redneck and trailer folk on unsuspecting people. Me: So Mike, what's a deluxe handshake? Mike: It's what I did to Pastor Cesar when I first met him. I had him praying to … [Link]
Photograph taken by Adrian Thieret in Shanghai (Pudong) about a month ago.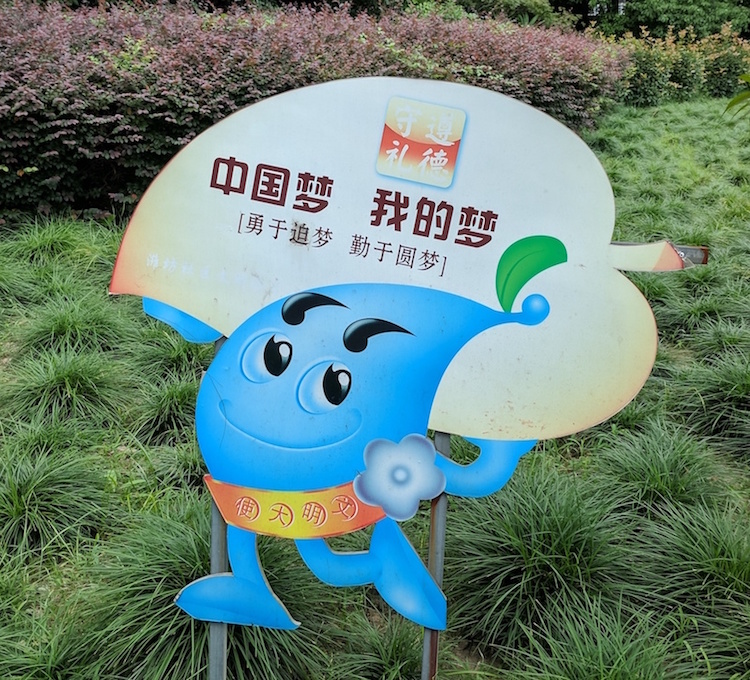 The writing on the sign says, from the top to the bottom: zūn dé shǒu lǐ 遵德守礼 ("abide by morality and propriety") Zhōngguó mèng 中国梦 ("China's dream") wǒ de mèng 我的梦("my dream") yǒngyú pò mèng 勇于迫梦 ("be brave in pressing close to [your] dream") qín yú yuánmèng 勤于圆梦 … [Link]
Article by Sarah Cascone in Artnet (October 16, 2017): This Artist Gathered 2,000 Words for Women—and Now, She Wants You to Walk All Over Them: Lin Tianmiao's installation at Galerie Lelong puts contemporary language on top of antique carpets." Here's an example of Lin's work: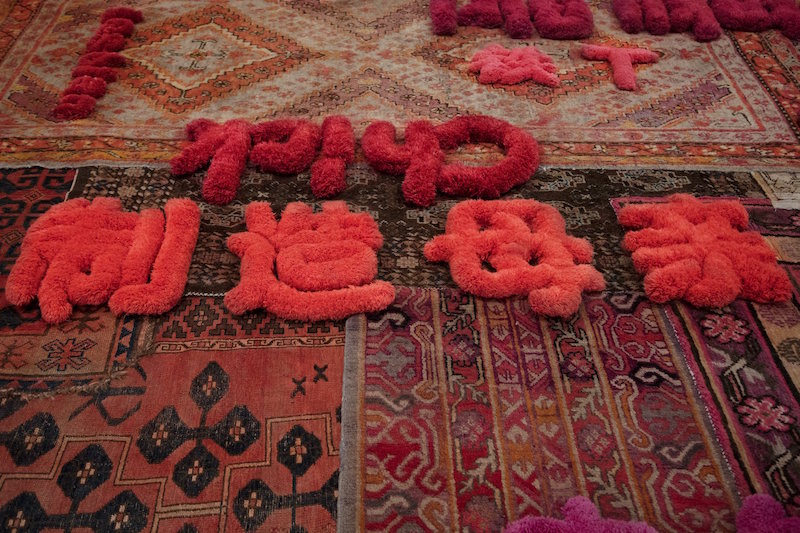 The puffy Chinese characters in the center read: zhìzào mǔqīn 制造母亲 ("manufacturing mother[hood]") Above that, … [Link]
Archive
23 Jan 2018 22 Jan 2018 21 Jan 2018 20 Jan 2018 19 Jan 2018 18 Jan 2018 17 Jan 2018 16 Jan 2018 15 Jan 2018 14 Jan 2018 13 Jan 2018 12 Jan 2018 11 Jan 2018 10 Jan 2018 09 Jan 2018 08 Jan 2018 07 Jan 2018 06 Jan 2018 05 Jan 2018 04 Jan 2018 03 Jan 2018 02 Jan 2018 01 Jan 2018 31 Dec 2017 30 Dec 2017 29 Dec 2017 28 Dec 2017 27 Dec 2017 26 Dec 2017 25 Dec 2017 24 Dec 2017