Almost everyone uses language, so inevitably almost everyone thinks they are an expert in it. I don't consider myself an expert, though most of my work requires at least language competence and sometimes actual skill, but I do follow the blogs featured on this feeds page.
(If you are wondering where the translation-related feeds have all gone, I have put them on their own page.)
Most of the blogs represented here are in English, most of the time, but don't be surprised to find other languages used. Go with the flow – I occasionally find myself pleasantly surprised at how much I can grasp in languages I have never seen before.
Language On the Net
Adrian S. Thieret found this sign inside his brand new apartment complex in Shanghai a few days ago:

It reads: xǐyī fáng zhèngzài zhuāngshì zhōng -ing…… 洗衣房正在装饰中ing…… ("the laundry room is being decorated") jìngqǐng qídài 敬请期待 ("coming soon", lit., "respectfully please wait expectantly") The excess of markers of the present progressive / continuous aspect in the first line is almost … [Link]
Lists might be considered art, and there was an exhibition of lists made by famous artists some years ago. In Iceland art is a list – the Icelandic word of art is list. In Old Icelandic it also meant "craft, skill, adroitness, dexterity" [source]. Related words include: lista- = artistic listamaður = artist listaverk = work of art listflutningur = … [Link]
Dudes that start hitting on a girl immediately after she becomes single. Bryce didn't even wait an hour after jen ended her relationship to ask her out. He's such a thirst responder.
[Link]
Advertisement recently spotted by Guy Freeman in the Central, Hong Kong MTR (subway) station: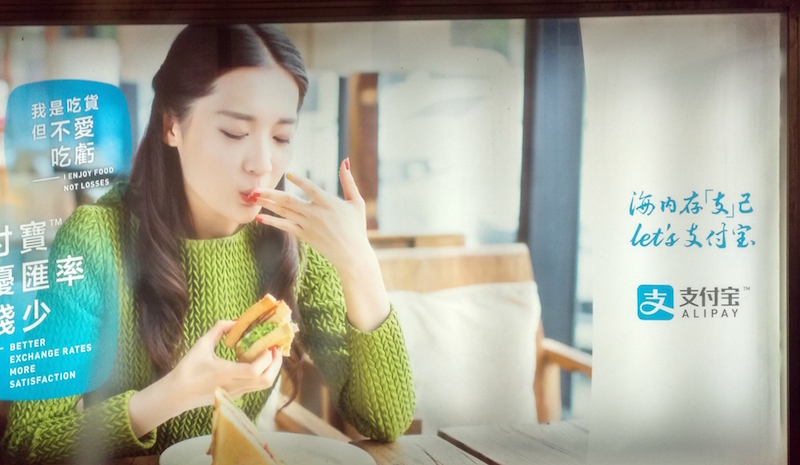 It's a mixture of Chinese and English, of simplified and traditional characters. In this post, I will focus on the calligraphically written slogan on the right side of the poster: Hǎinèi cún 'zhī'jǐ, let's zhīfùbǎo 海内存「支」己,let's支付宝 This slogan is not easy to translate. Consequently, before attempting … [Link]
Yes, you read it right, that's "gound." Justin E. H. Smith's unsettling… essay? … for The Public Domain Review will explain it. Eventually. It begins (after a brief bit of throat-clearing): Benno Guerrier von Klopp (1816–1903) was a Baltic German philologist, of French Huguenot origin, who studied at the University of Saint Petersburg and made most of his career as … [Link]
Archive
17 Jan 2018 16 Jan 2018 15 Jan 2018 14 Jan 2018 13 Jan 2018 12 Jan 2018 11 Jan 2018 10 Jan 2018 09 Jan 2018 08 Jan 2018 07 Jan 2018 06 Jan 2018 05 Jan 2018 04 Jan 2018 03 Jan 2018 02 Jan 2018 01 Jan 2018 31 Dec 2017 30 Dec 2017 29 Dec 2017 28 Dec 2017 27 Dec 2017 26 Dec 2017 25 Dec 2017 24 Dec 2017 23 Dec 2017 22 Dec 2017 21 Dec 2017 20 Dec 2017 19 Dec 2017 18 Dec 2017 17 Dec 2017