Almost everyone uses language, so inevitably almost everyone thinks they are an expert in it. I don't consider myself an expert, though most of my work requires at least language competence and sometimes actual skill, but I do follow the blogs featured on this feeds page.
(If you are wondering where the translation-related feeds have all gone, I have put them on their own page.)
Most of the blogs represented here are in English, most of the time, but don't be surprised to find other languages used. Go with the flow – I occasionally find myself pleasantly surprised at how much I can grasp in languages I have never seen before.
Language On the Net
One of the Icelandic courses I'm doing on Memrise was made especially for people going to the Polyglot Conference in Reykjavik at the end of October. Today's lesson included the phrase "Hefur þú tekið þátt í Ráðstefnu fjöltyngdra einstaklinga?", which means "Have you been to a Polyglot Conference?", or literally "Have you taken part in a conference of multilingual individuals?". … [Link]
In celebration of Geoff Pullum's 700th LLOG post, "World domination and threats to the public", we'll be meeting for a quiet (virtual) drink this evening. But meanwhile I'll quietly suggest that Geoff has been too hasty in joining Randall Munroe at xkcd in assigning to the field of Linguistics a "low likelihood of being a crucial tool for a supervillain, … [Link]
Linguistics is in the most desirable quadrant according to today's xkcd: low likelihood of being a crucial tool for a supervillain, and low probability of anything breaking out of the research environment and threatening the general population.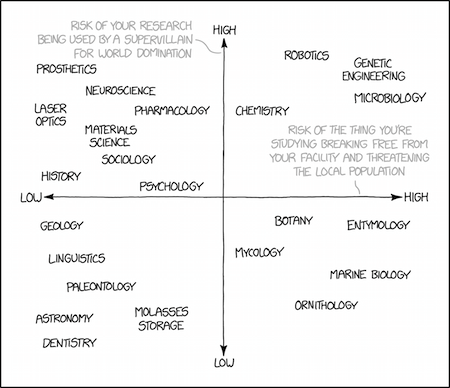 But I'm not at all sure that everything is positioned correctly. Molasses storage should be further to the right (never forget the Great … [Link]
A phrase used when you are done with someones bullshit and you want them to stop talking. Usually in a rude/angry tone and/or while in an argument. John: Yo, I didnt steal your money bro. Why would I do that?Joe: Nah man I dont trust you.John: Vro we been friends for yearsJoe: Nigga say less
[Link]
Archive
23 Jan 2018 22 Jan 2018 21 Jan 2018 20 Jan 2018 19 Jan 2018 18 Jan 2018 17 Jan 2018 16 Jan 2018 15 Jan 2018 14 Jan 2018 13 Jan 2018 12 Jan 2018 11 Jan 2018 10 Jan 2018 09 Jan 2018 08 Jan 2018 07 Jan 2018 06 Jan 2018 05 Jan 2018 04 Jan 2018 03 Jan 2018 02 Jan 2018 01 Jan 2018 31 Dec 2017 30 Dec 2017 29 Dec 2017 28 Dec 2017 27 Dec 2017 26 Dec 2017 25 Dec 2017 24 Dec 2017