Almost everyone uses language, so inevitably almost everyone thinks they are an expert in it. I don't consider myself an expert, though most of my work requires at least language competence and sometimes actual skill, but I do follow the blogs featured on this feeds page.
(If you are wondering where the translation-related feeds have all gone, I have put them on their own page.)
Most of the blogs represented here are in English, most of the time, but don't be surprised to find other languages used. Go with the flow – I occasionally find myself pleasantly surprised at how much I can grasp in languages I have never seen before.
Language On the Net
Today's SMBC: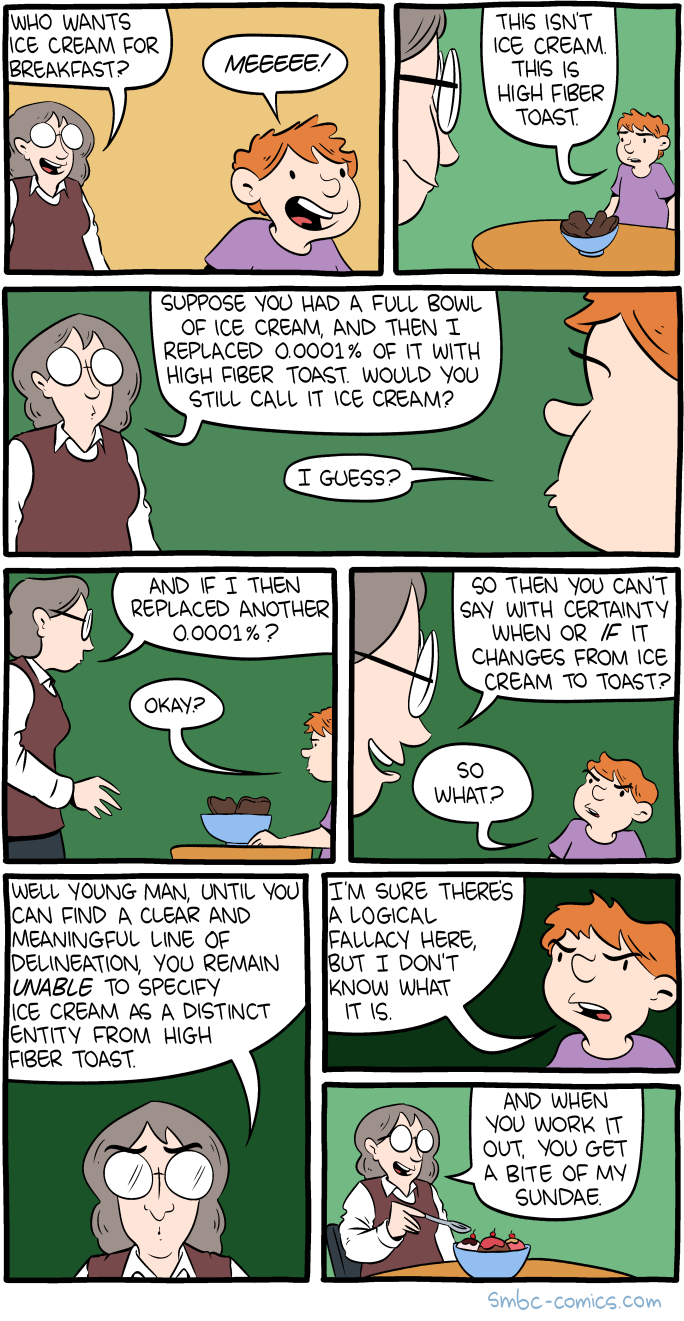 The aftercomic: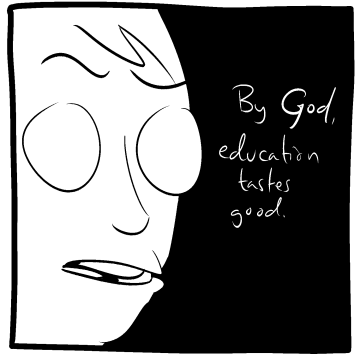 [Link]
Excerpts from "Kazakhstan: Latin Alphabet Is Not a New Phenomenon Among Turkic Nations", by Uli Schamiloglu (a professor in the Department of Kazakh Language and Turkic Studies at Nazarbayev University in Astana, Kazakhstan), EurasiaNet (9/15/17): Kazakhstan's planned transition to the Latin alphabet raises complex questions. While alphabets may not be important in and of themselves, they play an important role … [Link]
Better late than never: [Link]
When you and a friend compete to drink as many twisted teas as possible in one sitting. "Yo Kyle, we're f*cking having a tea off on saturday."
[Link]
I hope you appreciate the wisdom of the new policy on naming hurricanes that was announced here on September 11. The latest brutal storm to devastate the islands of the eastern Caribbean would not have been named for the mother of Jesus; it would have been named "Hurricane Malaria." That's more like it. Nasty names for nasty stuff. You know … [Link]
Article in South China Morning Post (9/19/17) by Jasmine Siu: "Activist fined HK$3,000 for binning Hong Kong public library books in 'fight against cultural invasion' from mainland China: Alvin Cheng Kam-mun, 29, convicted of theft over dumping of books printed in simplified Chinese characters" A radical Hong Kong activist was on Tuesday fined HK$3,000 for dumping library books in a … [Link]
Archive
18 Dec 2017 17 Dec 2017 16 Dec 2017 15 Dec 2017 14 Dec 2017 13 Dec 2017 12 Dec 2017 11 Dec 2017 10 Dec 2017 09 Dec 2017 08 Dec 2017 07 Dec 2017 06 Dec 2017 05 Dec 2017 04 Dec 2017 03 Dec 2017 02 Dec 2017 01 Dec 2017 30 Nov 2017 29 Nov 2017 28 Nov 2017 27 Nov 2017 26 Nov 2017 25 Nov 2017 24 Nov 2017 23 Nov 2017 22 Nov 2017 21 Nov 2017 20 Nov 2017 19 Nov 2017 18 Nov 2017 17 Nov 2017