Almost everyone uses language, so inevitably almost everyone thinks they are an expert in it. I don't consider myself an expert, though most of my work requires at least language competence and sometimes actual skill, but I do follow the blogs featured on this feeds page.
(If you are wondering where the translation-related feeds have all gone, I have put them on their own page.)
Most of the blogs represented here are in English, most of the time, but don't be surprised to find other languages used. Go with the flow – I occasionally find myself pleasantly surprised at how much I can grasp in languages I have never seen before.
Language On the Net
Chad Childers, "Decapitated Members Arrested on Alleged Kidnapping Charges", Loudwire 9/10/2017. But will they be tried separately?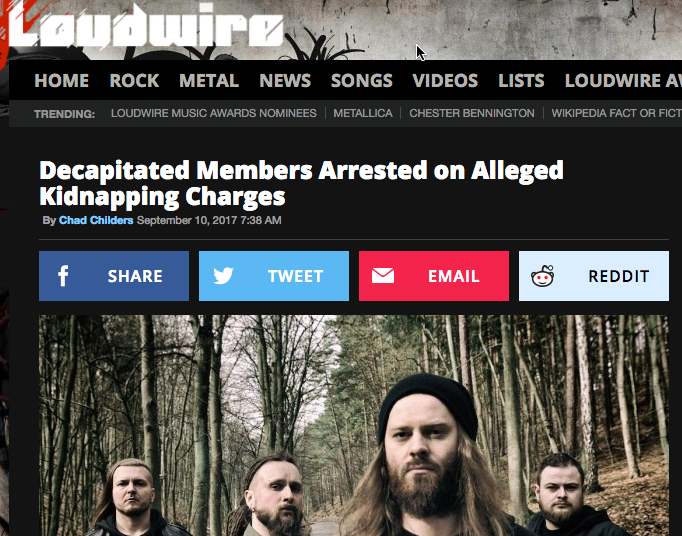 [Link]
Here's a recording in a mystery language. Can you identify the language, and do you know where it's spoken? [Link]
Cosplaying in a suit but instead of a mask, you use facepaint. Oh, wow, dude! Look at the guy cospainting as Bonnie the Bunny!
[Link]
Jenny List had an amusing piece some years ago for the Oxford Dictionaries blog about diacritics, starting by saying you might think they're not needed for English, and continuing: But as any halfway observant child would tell you, what about the café down the road? Or the jalapeño peppers you and your fiancée enjoyed on your à la carte pizza, … [Link]
Archive
19 Feb 2018 18 Feb 2018 17 Feb 2018 16 Feb 2018 15 Feb 2018 14 Feb 2018 13 Feb 2018 12 Feb 2018 11 Feb 2018 10 Feb 2018 09 Feb 2018 08 Feb 2018 07 Feb 2018 06 Feb 2018 05 Feb 2018 04 Feb 2018 03 Feb 2018 02 Feb 2018 01 Feb 2018 31 Jan 2018 30 Jan 2018 29 Jan 2018 28 Jan 2018 27 Jan 2018 26 Jan 2018 25 Jan 2018 24 Jan 2018 23 Jan 2018 22 Jan 2018 21 Jan 2018 20 Jan 2018