Almost everyone uses language, so inevitably almost everyone thinks they are an expert in it. I don't consider myself an expert, though most of my work requires at least language competence and sometimes actual skill, but I do follow the blogs featured on this feeds page.
(If you are wondering where the translation-related feeds have all gone, I have put them on their own page.)
Most of the blogs represented here are in English, most of the time, but don't be surprised to find other languages used. Go with the flow – I occasionally find myself pleasantly surprised at how much I can grasp in languages I have never seen before.
Language On the Net
Damián Blasi, Susanne Michaelis and Martin Haspelmath, "Grammars are robustly transmitted even during the emergence of creole languages", Nature Human Behaviour 2017: [W]e analyse 48 creole languages and 111 non-creole languages from all continents and conclude that the similarities (and differences) between creoles can be explained by genealogical and contact processes, as with non-creole languages, with the difference that creoles … [Link]
69 to the 69th power; slang for "a lot" I took some aspirin and now my headache is a dickjillion times better!
[Link]
Sign on a Sino-Tibetan restaurant: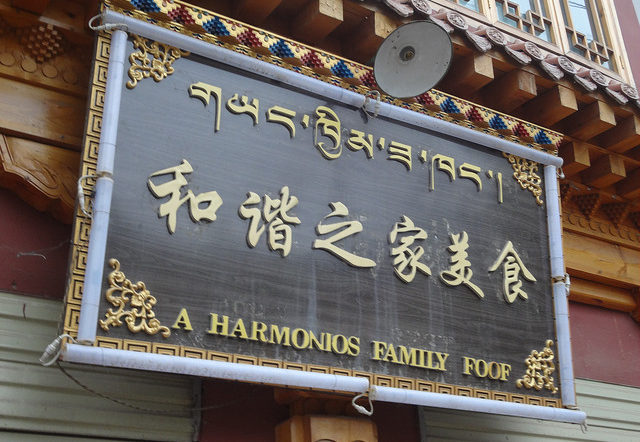 (Source) Tibetan g.yang khyim za khang གཡང་ཁྱིམ་ཟ་ཁང་། "Prosperous Home Restaurant" Notes: g.yang ("good fortune; auspicious") khyim ("home; family") za khang ([eat-house] "restaurant") Robbie Barnett: Well, it's ok. But I think the word order is wrong: it is adj-noun, should be noun-adj. But I think this is allowable in some cases? Janet Gyatso: It's an odd … [Link]
Filip Stojanovski reports on a remarkable translator: The death of linguist Ognen Čemerski on August 25, cut down in his prime at age 42 by cancer, has shocked the Macedonian public. […] As a translator, Čemerski left a lasting cultural legacy by providing a new translation of the classic American novel "Moby-Dick" by Herman Melville, and most media outlets stressed … [Link]
Archive
19 Feb 2018 18 Feb 2018 17 Feb 2018 16 Feb 2018 15 Feb 2018 14 Feb 2018 13 Feb 2018 12 Feb 2018 11 Feb 2018 10 Feb 2018 09 Feb 2018 08 Feb 2018 07 Feb 2018 06 Feb 2018 05 Feb 2018 04 Feb 2018 03 Feb 2018 02 Feb 2018 01 Feb 2018 31 Jan 2018 30 Jan 2018 29 Jan 2018 28 Jan 2018 27 Jan 2018 26 Jan 2018 25 Jan 2018 24 Jan 2018 23 Jan 2018 22 Jan 2018 21 Jan 2018 20 Jan 2018