Almost everyone uses language, so inevitably almost everyone thinks they are an expert in it. I don't consider myself an expert, though most of my work requires at least language competence and sometimes actual skill, but I do follow the blogs featured on this feeds page.
(If you are wondering where the translation-related feeds have all gone, I have put them on their own page.)
Most of the blogs represented here are in English, most of the time, but don't be surprised to find other languages used. Go with the flow – I occasionally find myself pleasantly surprised at how much I can grasp in languages I have never seen before.
Language On the Net
A long-distance relationship in which the couple only gets together for idyllic vacation-like excursions, therefore avoiding the "real-life" issues of dating. "She met this guy online last summer, but he lives in Austin and doesn't want to move, so they've struck up this very intense vacationship."
[Link]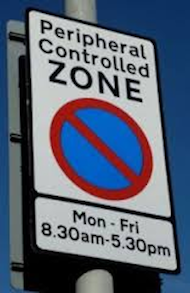 In various areas of Edinburgh there are signs that say "Peripheral Controlled Zone." What exactly would you do if you encountered one of these signs? What would it mean to you? Not much? That's the hallmark of nerdview. What is peripheral to what? Who is controlling what? What is peripheral control? Why are you being told this? Nothing becomes clearer … [Link]
The French exclamation C'est inouï ! means "It's incredible!". The word inouï [inwi] means unprecedented, incredible, unheard-of, extraordinary, amazing. It is a combination of the negative prefix in- and ouï, which comes from ouïr (to hear, to listen), from the Old French oir (to hear, listen), from Latin audiō (I hear, listen, pay attention), from Proto-Indo-European *h₂ew-is-d-, a compound of … [Link]
David Bandurski has done the world a great service by providing a point by point translation and valuable exegesis of the essentials of President Xi Jinping's "important speech" delivered in Beijing on July 26, 2017. See his: "The Arithmetic of Party-Speak: The 19th National Congress of the Chinese Communist Party is just around the corner — and that means the … [Link]
Yitzhak Gormezano Goren writes about his 1978 novel Alexandrian Summer, described at the time as "An achievement and innovation in Hebrew Literature," and its belated translation into English; I thought the last couple of paragraphs were particularly interesting: During the process of working with Yardenne Greenspan, the translator, I realized to my surprise that Alexandrian Summer is very difficult to … [Link]
Archive
19 Feb 2018 18 Feb 2018 17 Feb 2018 16 Feb 2018 15 Feb 2018 14 Feb 2018 13 Feb 2018 12 Feb 2018 11 Feb 2018 10 Feb 2018 09 Feb 2018 08 Feb 2018 07 Feb 2018 06 Feb 2018 05 Feb 2018 04 Feb 2018 03 Feb 2018 02 Feb 2018 01 Feb 2018 31 Jan 2018 30 Jan 2018 29 Jan 2018 28 Jan 2018 27 Jan 2018 26 Jan 2018 25 Jan 2018 24 Jan 2018 23 Jan 2018 22 Jan 2018 21 Jan 2018 20 Jan 2018