I don't claim great skill as a guitarist, though I have a diploma of sorts and have earned a living from the guitar in the remote past – an even more precarious one than the one I have now, though. The guitar, particularly the classical guitar, still claims a good deal of my time and mental energy, so it had to be represented on this site. Unfortunately, apart from the indispensable forum run by Jean-François Delcamp, there is not a great deal of very useful stuff on the Internet related with the classical guitar – here are some feeds which I hope are of more use to you than to me, and towards the bottom of the page you'll find a few links mostly related with classical guitarists. Drop me a comment if you know a feed or link which might fit (or just to say hi).
Guitar Feeds
Michael Karmon is a California-based composer who dedicates much of his output to the classical guitar. We sat down (virtually) for a little interview about his background, composition process, and new models for commissioning music. CG.org: Tell us about your musical education and the path that led you to the guitar MK: I took the usual academic path as a … [Link]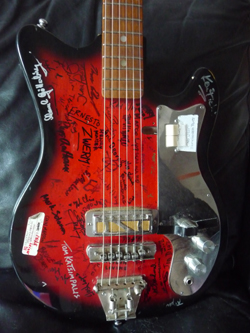 The $100 Guitar, Signed by the MusiciansMost musicians (myself included) spend way too much time thinking, fantasizing, and obsessing over their instruments. Whether the object of desire is a vintage specimen or the latest contemporary fad, I have noticed a tendency in my own thinking to anticipate all kinds of tonal, musical, and practical improvements with the acquisition of the next … [Link]
Gyan Riley is active as a soloist, ensemble player, composer, and improviser in a wide variety of styles. We bounced off a few questions via email over the past weeks.
CG.org: When did you start playing guitar, and what was your path to serious study? Gyan: I started playing guitar at age 12, when I won a cheap classical instrument … [Link]
Another late-night treat from Rob MacKillop. Archdelighter! [Link]
[Link]
[Link]
[Link]
[Link]
Wow…another cool transcription from Mr. Al Owens! This time we have Here, There and Everywhere by the Beatles. Click here for the PDF and here for the MP3. I urge other people to send in their arrangements, also. Thanks! Maybe this will get me off my butt and finish the tunes I have on the backburner. Maybe
[Link]
Lawler wrote: ↑Thursday 25 May 2017, 17:26 pmJames Stephens wrote: ↑Thursday 25 May 2017, 14:28 pmMark, there were a couple of pages of posts deleted recently because of derailment.Are you referring to the posts of Mr. Geudel? Most of them seem to be missing. Now that guy spoke his mind. There are also a dozen or so video links removed … [Link]
Lawler wrote: ↑Thursday 25 May 2017, 17:26 pmJames Stephens wrote: ↑Thursday 25 May 2017, 14:28 pmMark, there were a couple of pages of posts deleted recently because of derailment.Are you referring to the posts of Mr. Geudel? Most of them seem to be missing. Now that guy spoke his mind. There are also a dozen or so video links removed … [Link]
James Stephens wrote: ↑Thursday 25 May 2017, 14:28 pmMark, there were a couple of pages of posts deleted recently because of derailment.Are you referring to the posts of Mr. Geudel? Most of them seem to be missing. Now that guy spoke his mind. There are also a dozen or so video links removed for copyright violation. That would shorten the … [Link]
Sanel Redžić shared a wonderful post on his facebook page this week I think we can all learn from. Here is what Sanel had to say: Domenico Scarlatti wrote 555 keyboard sonatas and this... [Link]
Here is an incredibly informative and insightful video from Cuban guitarist Marco Tamayo (who teaches at the Mozarteum in Salzburg) on a new approach to musical and technical fingerings for the left hand. (What he... [Link]
If you haven't been listening to Bret Williams's podcast, Classical Guitar Insider, you should check it out (available on iTunes) . . . why don't you start with this week's interview with Matthew Rohde... [Link]
Hello, I am a semi-professional guitarist looking for a classical guitar that I can get some mileage out of. I am looking to spend around $1000. I would [Link]
Hi Trevor, Just wondering if you have any recommendations for those of us with thin, weak nails that constantly break. Mine also hook over as they grow [Link]
Hi, I am looking for help with Capricho Arabe if you have an instruction video available. I loved Lagrima, the last song you suggested. I was working [Link]
Learn all about the guitar that was introduced to the guitar world via George Harrison on the 1964 Beatles album A Hard Day's Night. Features high-resolution pics. Rickenbacker 360 Profile [Link]
Do you own an iPhone or iPad? Do you also play guitar? Did you know that for as little as $75, you can use your iPhone or iPad to make …Read Full Post [Link]
Although not for absolute beginners, this popular song by Passenger should be fairly straightforward to play for guitarists comfortable with finger-picking. Use guitar tab and video lessons to help master …Read Full Post [Link]
Hi Guys, Check out the newly included Learn to play songs on guitar section in which some free video lessons are provided by Jamplay. These videos are full length lessons that guide you step by step in learning songs on guitar. How cool is that? We also have new lessons in the guitar articles sections, guitar techniques, songwriting on guitar … [Link]
Yippee…. Long awaited wait for this facelift….. Hope you guys like the new outlook now. Most of the previous posts have been removed and I kinda just wanna start this blog afresh… Stay tuned & Rock On~ [Link]
If you happen to be looking for an online guitar course, you are in luck. GuitarPlayerWorld.com has managed to negotiate a special deal for Jamorama. For a limited time, Jamorama will be on a MASSIVE 25% OFF only for our visitors. [Link]
Andrés Torres Segovia (21 February 1893 – 2 June 1987) was a Spanish read more
[Link]
The debate over long or short nails has raged since the dawn of the classical guitar and the right answer to this question is "It doesn't matter".read more
[Link]
rtyrty
[Link]
Guitar Feed Archive
25 May 2017 24 May 2017 23 May 2017 22 May 2017 21 May 2017 20 May 2017 19 May 2017 18 May 2017 17 May 2017 16 May 2017 15 May 2017 14 May 2017 13 May 2017 12 May 2017 11 May 2017 10 May 2017 09 May 2017 08 May 2017 07 May 2017 06 May 2017 05 May 2017 04 May 2017 03 May 2017 02 May 2017 01 May 2017 30 Apr 2017 29 Apr 2017 28 Apr 2017 27 Apr 2017 26 Apr 2017 25 Apr 2017 24 Apr 2017
Guitar Links