Odds and sods I look at regularly, just because they amuse me. I hope they do the same for you. Incidentally, I found this page's title on Greg Ross's Futility Closet (it's somewhere on this page) in a mini-article which also includes the delightful sentence in Icelandic: Barbara Ara bar Ara araba bara rabbabara. Ross points out that this, "besides being fun to say, is spelled with only three letters. It means "Barbara, daughter of Ari, brought only rhubarb to Ari the Arab."
[link] [22 comments] [Link]
[link] [22 comments] [Link]
[link] [126 comments] [Link]
[link] [52 comments] [Link]
[link] [28 comments] [Link]
[link] [26 comments] [Link]
[link] [92 comments] [Link]
[link] [17 comments] [Link]
[link] [15 comments] [Link]
[link] [55 comments] [Link]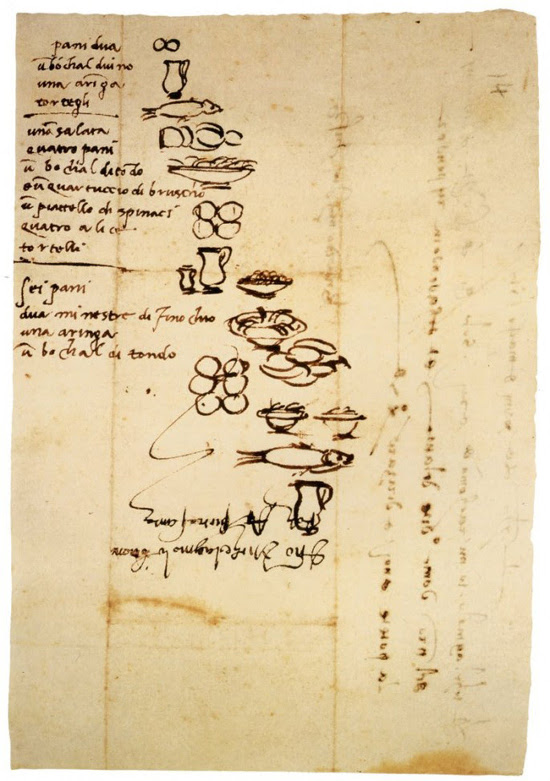 When the Seattle Art Museum presented an exhibition of Michelangelo's early drawings in 2009, it included three menus that the sculptor had scrawled on the back of an envelope in 1518 — grocery lists for a servant. Oregonian reviewer Steve Duin explained, "Because the servant he was sending to market was illiterate, Michelangelo illustrated the shopping lists — a herring, … [Link]
[link] [67 comments] [Link]
[link] [82 comments] [Link]
[link] [108 comments] [Link]
[link] [32 comments] [Link]
[link] [32 comments] [Link]
[link] [92 comments] [Link]
[link] [91 comments] [Link]
[link] [158 comments] [Link]
The winner of the 1925 Miss Plump of Coney Island contest was Jolly Irene, which was the stage name of sideshow performer Amanda Siebert. According to Marc Hartzman's American Sideshow:
Amanda Siebert wasn't always the jiggly Jolly Irene. Born in Jersey City, New Jersey, she was quite normal for the first twenty-one years of her life. In 1901 she weighed … [Link]
[link] [112 comments] [Link]
[link] [24 comments] [Link]
[link] [68 comments] [Link]
What are these guys making?
The answer is here.
Or after the jump. [Link]
[link] [66 comments] [Link]
[link] [279 comments] [Link]
[link] [75 comments] [Link]
[link] [98 comments] [Link]
[link] [80 comments] [Link]
[link] [22 comments] [Link]
[link] [25 comments] [Link]
[link] [43 comments] [Link]
Graph by: Entwistlefan101 Tagged: climax , peak , Pie Chart , your mom Share on Facebook
[Link]
Graph by: vinaloi41 Tagged: beeping , health , navi , Pie Chart , video games , zelda Share on Facebook
[Link]
Graph by: cornstalker Tagged: 2010 , birthdays , bleeding , food pyramid , infographic , stomach Share on Facebook
[Link]
Graph by: saltyteabag (via www.geekosystem.com) Tagged: copy , distribution , illegal , infographic , piracy , software Share on Facebook
[Link]
Graph by: Unknown Tagged: best of week , corners , guide , sandwich Share on Facebook
[Link]
Graph by: Unknown Tagged: credit card , graphs , funny , Pie Chart Share on Facebook
[Link]
Graph by: (via Youtube-Trends) Tagged: justin beiber , baby , youtube , Line Graph , gangnam style , psy Share on Facebook
[Link]
Graph by: (via Sarah Lazarovic) Tagged: snack , work , websites , morning , coffee , mondays Share on Facebook
[Link]
Graph by: Jimperbam Tagged: Bar Graph , handwriting , school , summer Share on Facebook
[Link]
How fun Monopoly is Vs Time Graph by: Unknown Tagged: board games , entertainment , fun , monopoly , screw this , time Share on Facebook
[Link]
Graph by: ditzydoo Tagged: dads , parents , socks and sandals , tacky , venn diagram Share on Facebook
[Link]
iamnotlost said: Who decided raisins should be a thing? Graph by: iamnotlost Tagged: raisins , delicious , vile Share on Facebook
[Link]
Graph by: (via Bite) Tagged: dogs , pets , cat people , venn diagram Share on Facebook
[Link]
Graph by: bsewcicma Tagged: books , characters , insightful , plots , Sparkle , twilight , vampires Share on Facebook
[Link]
Graph by: Aquaras Tagged: double jump , bad idea , video games Share on Facebook
[Link]
Submitted by: Unknown Tagged: fashion , Chart , pants , pockets Share on Facebook
[Link]
Submitted by: Unknown Tagged: caution , reader , sketch , poses Share on Facebook
[Link]
Graph by: (via Communicants) Tagged: downer , unfortunate , kafka Share on Facebook
[Link]
[link] [33 comments] [Link]
[link] [76 comments] [Link]
[link] [22 comments] [Link]
[link] [46 comments] [Link]
[link] [56 comments] [Link]
[link] [10 comments] [Link]
[link] [157 comments] [Link]
[link] [66 comments] [Link]
[link] [34 comments] [Link]
[link] [91 comments] [Link]
[link] [92 comments] [Link]
[link] [25 comments] [Link]
[link] [35 comments] [Link]
[link] [24 comments] [Link]
[link] [33 comments] [Link]
[link] [32 comments] [Link]
[link] [62 comments] [Link]
[link] [25 comments] [Link]
[link] [18 comments] [Link]
[link] [39 comments] [Link]
[link] [26 comments] [Link]
[link] [26 comments] [Link]
[link] [105 comments] [Link]
[link] [16 comments] [Link]
[link] [95 comments] [Link]
[link] [28 comments] [Link]
Archive
21 Jan 2018 20 Jan 2018 19 Jan 2018 18 Jan 2018 17 Jan 2018 16 Jan 2018 15 Jan 2018 14 Jan 2018 13 Jan 2018 12 Jan 2018 11 Jan 2018 10 Jan 2018 09 Jan 2018 08 Jan 2018 07 Jan 2018 06 Jan 2018 05 Jan 2018 04 Jan 2018 03 Jan 2018 02 Jan 2018 01 Jan 2018 31 Dec 2017 30 Dec 2017 29 Dec 2017 28 Dec 2017 27 Dec 2017 26 Dec 2017 25 Dec 2017 24 Dec 2017 23 Dec 2017 22 Dec 2017 21 Dec 2017