Odds and sods I look at regularly, just because they amuse me. I hope they do the same for you. Incidentally, I found this page's title on Greg Ross's Futility Closet (it's somewhere on this page) in a mini-article which also includes the delightful sentence in Icelandic: Barbara Ara bar Ara araba bara rabbabara. Ross points out that this, "besides being fun to say, is spelled with only three letters. It means "Barbara, daughter of Ari, brought only rhubarb to Ari the Arab."
[link] [75 comments] [Link]
[link] [23 comments] [Link]
[link] [187 comments] [Link]
[link] [45 comments] [Link]
[link] [127 comments] [Link]
[link] [13 comments] [Link]
[link] [39 comments] [Link]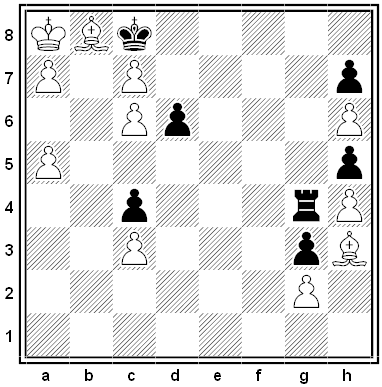 A "no-brainer" by Harvard mathematician (and chess master) Noam Elkies. White has choices as to how to play, but no matter how he proceeds, he'll wind up mating Black on the seventh move. (From Tim Krabbé's chess diary.)
[Link]
[link] [35 comments] [Link]
[link] [32 comments] [Link]
[link] [87 comments] [Link]
[link] [240 comments] [Link]
[link] [140 comments] [Link]
[link] [31 comments] [Link]
[link] [64 comments] [Link]
[link] [110 comments] [Link]
[link] [47 comments] [Link]
[link] [61 comments] [Link]
[link] [78 comments] [Link]
[link] [21 comments] [Link]
[link] [109 comments] [Link]
Wanda Hooper claimed that various electrical appliances around her home (her microwave, curling iron, TV set) were picking up and broadcasting obscene CB radio chatter. Is this really possible? I have no idea. Any radio experts care to weigh in with an opinion?
Alexandria Town Talk – May 1, 1987 [Link]
[link] [93 comments] [Link]
[link] [197 comments] [Link]
Leslie Jones (1886-1967) seems to have had a quirky sense of humor. I like his series of shots titled "Odd Fences."
You can see more at this link.
[Link]
[link] [54 comments] [Link]
Submitted by: (via theoldreader.com) Tagged: breaking bad , television Share on Facebook
[Link]
Graph by: lazarus90 Tagged: best of week , happiness , ignorance is bliss , intelligence , Line Graph Share on Facebook
[Link]
Graph by: Unknown Tagged: Pie Chart , Sad , sexytimes , wife Share on Facebook
[Link]
Graph by: (via Nerduo) Tagged: 80s , battles , cartoons , GI Joe , lasers , Pie Chart Share on Facebook
[Link]
Graph by: Unknown Tagged: jacket , mom , Pie Chart Share on Facebook
[Link]
Submitted by: Unknown Tagged: coffee , Chart , literature , school Share on Facebook
[Link]
Graph by: Unknown Tagged: pet , monkey , lonely Share on Facebook
[Link]
Graph by: greatday4awalk Tagged: borrowed , infographic , language , llama , weird Share on Facebook
[Link]
Graph by: Edgey Tagged: Awkward , change , laugh , moments , Pie Chart , subject , work Share on Facebook
[Link]
Graph by: Emmer (via Just Say Mehbe ) Tagged: apple , buying , iphone 5 , Pie Chart Share on Facebook
[Link]
Graph by: joemamaphat Tagged: games , Pie Chart , sidekicks , video games , zelda Share on Facebook
[Link]
Graph by: Tahlya31 Tagged: krusty crab , SpongeBob SquarePants , patrick Share on Facebook
[Link]
Graph by: (via Halloween Costumes) Tagged: xmen , infographic , wolverine , Logan Share on Facebook
[Link]
Graph by: will_f1986 Tagged: button , guy , listen , Pie Chart , press , pretend , scare Share on Facebook
[Link]
Graph by: Unknown Tagged: babbling , nicki minaj , Pie Chart , profanity Share on Facebook
[Link]
Graph by: ioanalov3 Tagged: Pie Chart , texting , message , k , length Share on Facebook
[Link]
Graph by: Unknown Tagged: globe , Maps , sterotypes , world Share on Facebook
[Link]
Graph by: Unknown Tagged: parkour , Pie Chart , running , zombie Share on Facebook
[Link]
Graph by: Unknown Tagged: refresh , facebook , Pie Chart Share on Facebook
[Link]
Submitted by: Unknown Tagged: cost , value , water , coke Share on Facebook
[Link]
Graph by: Unknown Tagged: fort minor , Music , percentage , Pie Chart , remember the name Share on Facebook
[Link]
Graph by: Unknown Tagged: community , video games Share on Facebook
[Link]
Graph by: Unknown Tagged: fluid , security , planes , airport , america , TSA , logic Share on Facebook
[Link]
[link] [151 comments] [Link]
[link] [22 comments] [Link]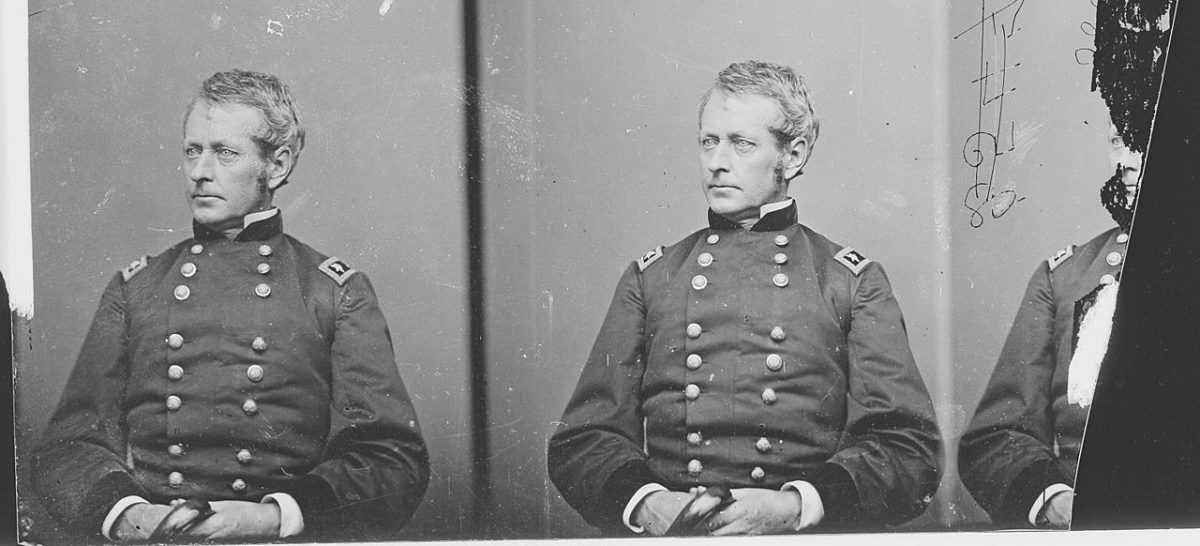 Union general Joseph Hooker had an eventful day at the Battle of Chancellorsville: I was standing on this step of the portico on the Sunday morning of the 3d of May, and was giving direction to the battle, which was now raging with great fury, the cannon-balls reaching me from both the east and the west, when a solid shot … [Link]
[link] [155 comments] [Link]
[link] [143 comments] [Link]
[link] [32 comments] [Link]
[link] [50 comments] [Link]
[link] [19 comments] [Link]
[link] [40 comments] [Link]
[link] [36 comments] [Link]
[link] [30 comments] [Link]
[link] [20 comments] [Link]
[link] [54 comments] [Link]
[link] [39 comments] [Link]
[link] [33 comments] [Link]
[link] [23 comments] [Link]
[link] [23 comments] [Link]
[link] [27 comments] [Link]
[link] [33 comments] [Link]
[link] [39 comments] [Link]
[link] [18 comments] [Link]
[link] [20 comments] [Link]
[link] [21 comments] [Link]
[link] [46 comments] [Link]
[link] [60 comments] [Link]
[link] [38 comments] [Link]
Archive
17 Jan 2018 16 Jan 2018 15 Jan 2018 14 Jan 2018 13 Jan 2018 12 Jan 2018 11 Jan 2018 10 Jan 2018 09 Jan 2018 08 Jan 2018 07 Jan 2018 06 Jan 2018 05 Jan 2018 04 Jan 2018 03 Jan 2018 02 Jan 2018 01 Jan 2018 31 Dec 2017 30 Dec 2017 29 Dec 2017 28 Dec 2017 27 Dec 2017 26 Dec 2017 25 Dec 2017 24 Dec 2017 23 Dec 2017 22 Dec 2017 21 Dec 2017 20 Dec 2017 19 Dec 2017 18 Dec 2017 17 Dec 2017